25th Annual New York State Intercollegiate Wrestling Championships
January 21, 1994 - January 22, 1994 @ Clark Gym, RIT (Rochester, New York)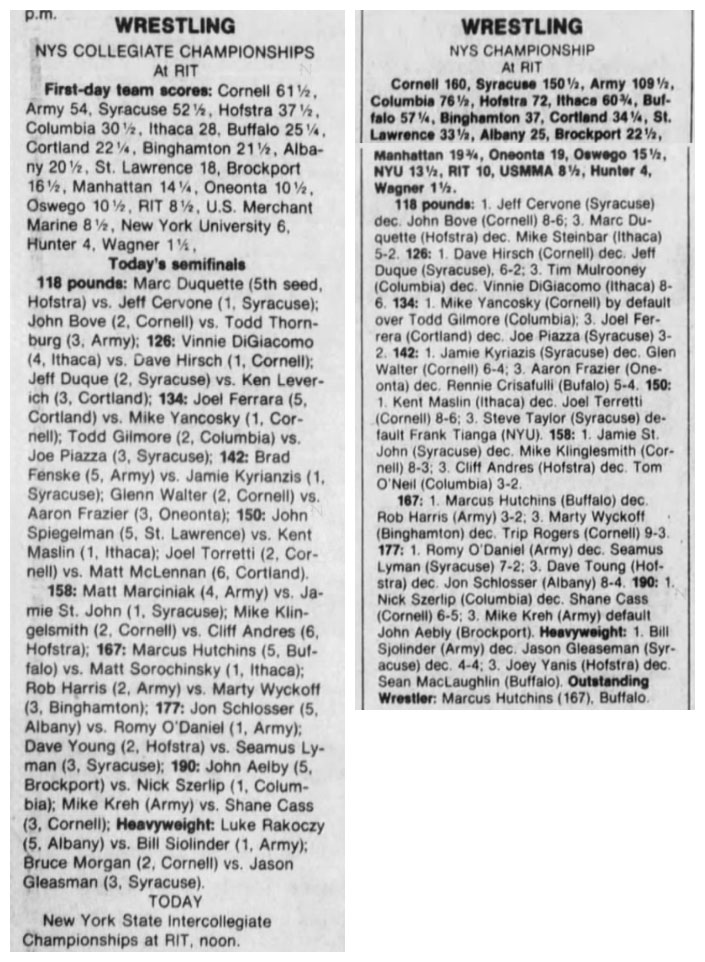 NYS Championship
The Cornell wrestling team outscored two ranked teams to take the New York State Intercollegiate Wrestling Championships on Friday and Saturday. SOURCE: Rochester Democrat and Chronicle, Saturday-Sunday, January 22-23, 1994. Reproduced by armdrag.com with permission. Click for larger image.
Varsity

Team Final

Cornell University 158, Syracuse University 147.5, U.S. Military Academy 107, Columbia University 75, Hofstra University 70, Ithaca College 59.25, University at Buffalo 56.25, Binghamton University 35.5, SUNY Cortland 32.75, St. Lawrence University 32, University at Albany 25, SUNY Brockport 22, Manhattan College 19.75, SUNY Oneonta 18, SUNY Oswego 15.5, New York University 13.5, Rochester Institute of Technology 9.5, U.S. Merchant Marine Academy 8.5, Hunter College 4, Wagner College 1.5

Outstanding Wrestler Award - Marcus Hutchins (UB)

Championship Final (1st)


Consolation Final (3rd)


Consolation Final (5th)


Consolation Final (7th)



IF YOU HAVE ANY ADDITIONAL PHOTOS OR DOCUMENTATION FROM THIS EVENT, CONTACT INFO@ARMDRAG.COM.

Comments (25th Annual New York State Intercollegiate Wrestling Championships)