Edison Tech (Rochester) vs. West High (Rochester)
April 1, 1924 @ Monroe Jr. High School (Rochester, New York)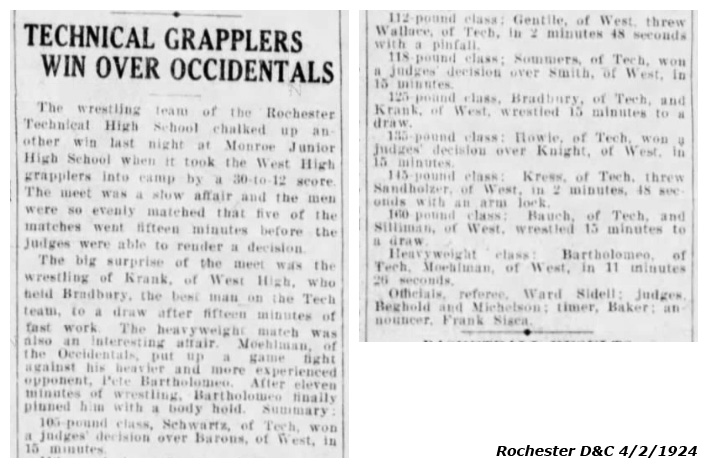 Technical Grapplers Win Over Occidentals
The wrestling team of the Rochester Technical High School chalked up another win last night at Monroe Junior High School when it took the West High grapplers into camp by a 30-to-12 score. The meet was a show affair and the men were so evenly matched that five of the matches went fifteen minutes before the judges were able to render a decision. SOURCE: Rochester Democrat and Chronicle, Wednesday, April 2, 1924. Reproduced by armdrag.com with permission.

Varsity | Rochester Interscholastic League
Edison Tech (Rochester) [NY] 30, West High (Rochester) [NY] 12
IF YOU HAVE ANY ADDITIONAL PHOTOS OR DOCUMENTATION FROM THIS EVENT, CONTACT INFO@ARMDRAG.COM.

Comments (Edison Tech (Rochester) vs. West High (Rochester))