NCAA Division III Wrestling Championships
March 4, 1989 - March 5, 1989 @ John Carroll University (University Heights, Ohio)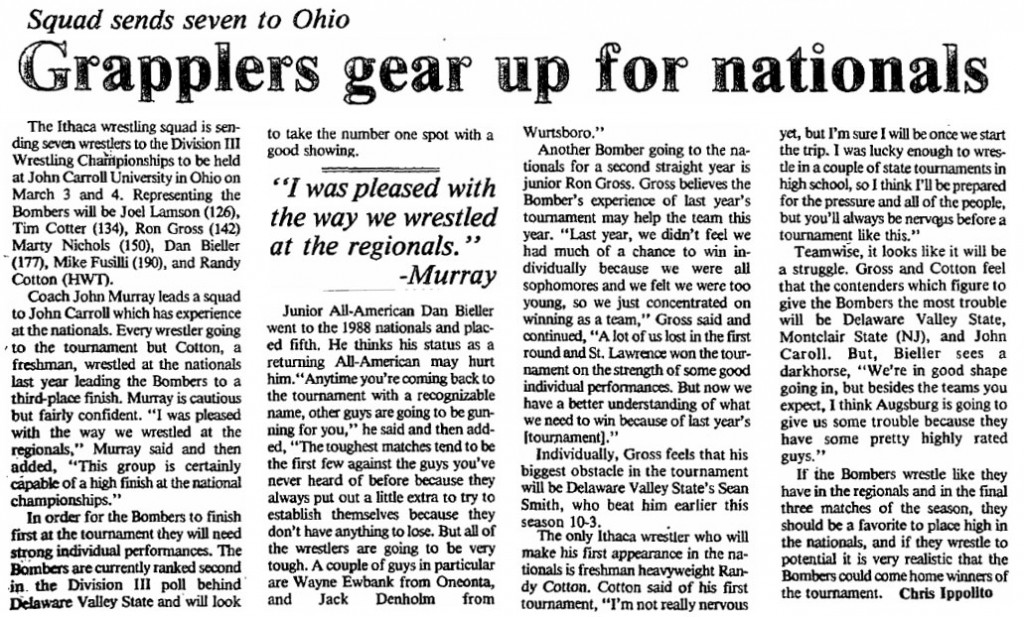 Grapplers gear up for nationals
SOURCE: The Ithacan, Thursday, March 2, 1989. Click for larger image.


Slideshow: Awards


Varsity

Team Final

Ithaca College 72.5, Delaware Valley College [PA] 64.5, Augsburg College [MN] 61.5, John Carroll University [OH] 59, Central College [IA] 56, Montclair State University [NJ] 51.5, SUNY Cortland 42.5, Wartburg College [IA] 42.5, Buena Vista University [IA] 33, Kean University [NJ] 29, The College of New Jersey [NJ] 27, SUNY Brockport 23.75, University of Chicago [IL] 22.5, University of Wisconsin-Stevens Point [WI] 22.5, University of Wisconsin-Whitewater [WI] 22.5, Ohio Northern University [OH] 22.25, Rhode Island College [RI] 20.75, Baldwin Wallace University [OH] 20, SUNY Oswego 17.5, St. Lawrence University 16.5, Coe College [IA] 16, Case Western Reserve University [OH] 15.5, Upper Iowa University [IA] 14.5, King's College [PA] 14, Luther College [IA] 14, Wittenberg University [OH] 12.5, Mount Union College [OH] 12, Cornell College [IA] 11.5, Carroll College [WI] 0, Elizabethtown College [PA] 0, Gallaudet University [DC] 0, Millikin University [IL] 0, New York University 0, Norwich University [VT] 0, SUNY Oneonta 0, Simpson College [IA] 0, U.S. Coast Guard Academy [CT] 0, University at Albany 0, University of St. Thomas [MN] 0, University of Wisconsin-Platteville [WI] 0, Washington and Lee University [VA] 0

Outstanding Wrestler Award - Peter Gonzalez (MSU)

Championship Final (1st)


Consolation Final (3rd)


Consolation Final (5th)


Consolation Final (7th)



IF YOU HAVE ANY ADDITIONAL PHOTOS OR DOCUMENTATION FROM THIS EVENT, CONTACT INFO@ARMDRAG.COM.

Comments (NCAA Division III Wrestling Championships)