Campbell Christmas Wrestling Tournament
December 17, 1977 @ Campbell Central School (Campbell, New York)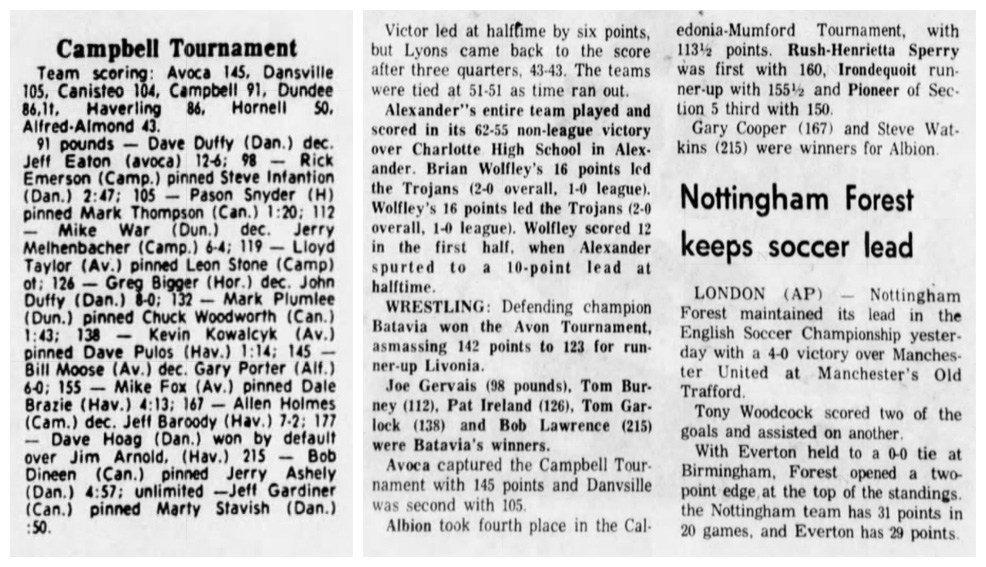 Campbell Tournament
Avoca captured the Campbell Tournament with 145 points and Dansville was second with 105. SOURCE: Rochester Democrat and Chronicle, Sunday, December 18, 1977. Reproduced by armdrag.com with permission. Click for larger image.

Varsity

Team Final

Avoca 145, Dansville 105, Canisteo 104, Campbell 91, Dundee 86.5, Bath Haverling 86, Hornell 50, Alfred-Almond 43

Place Winners

138 4. Stan Olevnik (Dundee)

Championship Final (1st)


Consolation Final (3rd)



IF YOU HAVE ANY ADDITIONAL PHOTOS OR DOCUMENTATION FROM THIS EVENT, CONTACT INFO@ARMDRAG.COM.

Comments (Campbell Christmas Wrestling Tournament)