18th Annual RIT Wrestling Invitational
December 2, 1983 - December 3, 1983 @ Clark Gym, RIT (Rochester, New York)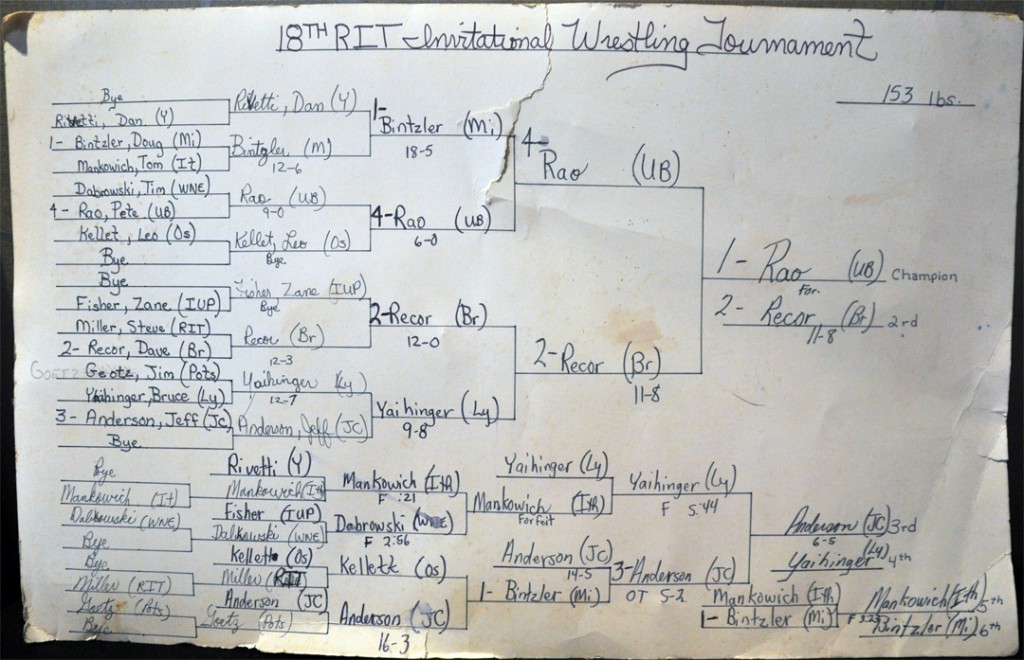 153-lb. Bracket
Pete Rao took first at 152-pounds for Buffalo. Provided by Pete Rao. Click for larger image.
Varsity

Team Final

Miami University [OH] 133.25, John Carroll University [OH] 99.25, Ithaca College 91.5, Yale University [CT] 82.5, SUNY Oswego 77.75, SUNY Brockport 67.25, University at Buffalo 58, Western New England College [MA] 53.25, Lycoming College [PA] 47.75, Indiana University of Pennsylvania [PA] 20, SUNY Potsdam 14, Rochester Institute of Technology 9.5

Outstanding Wrestler Award - Doug Morse (Oswego)

Place Winners

126 4. Mike Coddington (Oswego)
134 6. Pat Wittekind (Oswego)
190 4. Terry Bernat (Potsdam)

Championship Final (1st)


Consolation Final (3rd)


Consolation Final (5th)



IF YOU HAVE ANY ADDITIONAL PHOTOS OR DOCUMENTATION FROM THIS EVENT, CONTACT INFO@ARMDRAG.COM.

Comments (18th Annual RIT Wrestling Invitational)