NYSPHSAA Section V Class BB Wrestling Championships
February 13, 2009 - February 14, 2009 @ Byron-Bergen High School (Bergen, New York)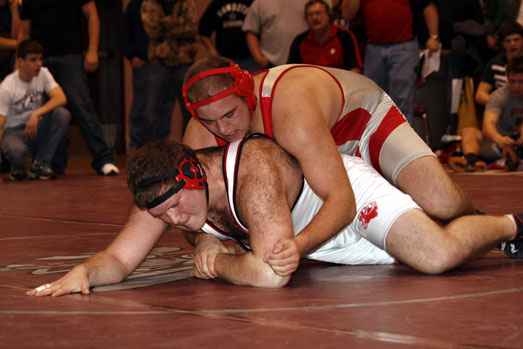 285 lbs. - ROUSE vs. SHARP
In a very competitive, final match of the night. Canisteo-Greenwoods, Zach Rouse proved to be slightly better than R.J. Sharp of Red Creek. Rouse concluded the tournament with a 6 to 3 victory. Photo by Bob Blair.

Slideshow: Finals








Slideshow: Semifinals






Slideshow: Champions








Varsity

Team Final

Letchworth 243, Holley 191.5, Canisteo-Greenwood 189, Le Roy 148, Marion 133.5, Byron-Bergen 102.5, Addison 94, Mynderse 94, Red Creek 78, Pembroke 76, Lyons 75, Campbell-Savona 67.5, East Rochester 61, Avon 57, Pavilion 57, Alexander 42, Caledonia-Mumford 31, Williamson 21

Outstanding Wrestler Award (Lower Weights) - Mike Nevinger (Letchworth)

Championship Final (1st)


Consolation Final (3rd)


Consolation Final (5th)


Championship Semifinals


Championship Quarterfinals


Preliminaries


Consolation Round 2


Consolation Round 3


Consolation Round 4



IF YOU HAVE ANY ADDITIONAL PHOTOS OR DOCUMENTATION FROM THIS EVENT, CONTACT INFO@ARMDRAG.COM.

Comments (NYSPHSAA Section V Class BB Wrestling Championships)