8th Annual Rochester Diocesan Catholic Invitational Wrestling Championships and State Qualifier
February 20, 1971 @ McQuaid Jesuit High School (Rochester, New York)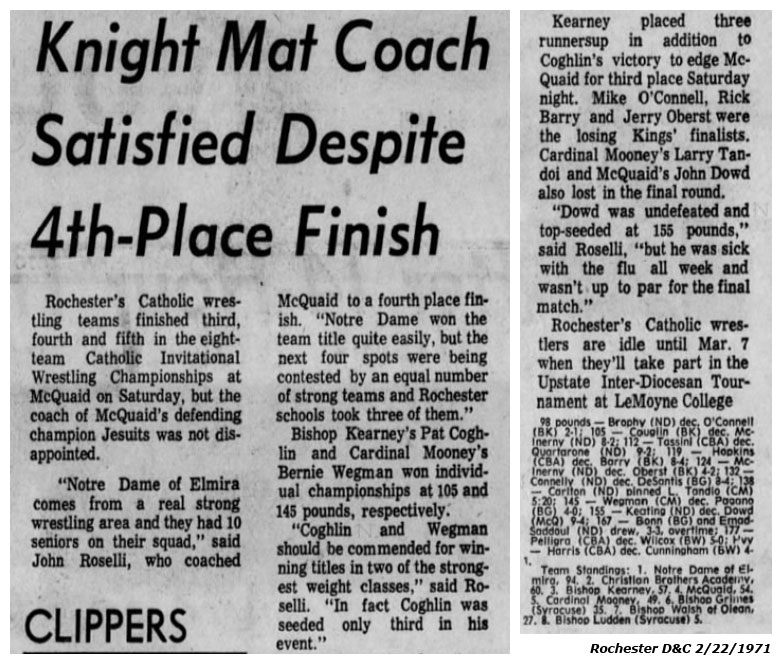 Knight Mat Coach Satisfied Despite 4th-Place Finish
Rochester Catholic wrestling teams finished third, fourth and fifth in the eight-team Catholic Invitational Wrestling Championships at McQuaid. SOURCE: Rochester Democrat and Chronicle, Monday, February 22, 1971. Reproduced by armdrag.com with permission. Click for larger image.

Varsity | Top 2 advance to Upstate NY Inter-Diocesan Championships

Team Final

Elmira Notre Dame 94, Christian Brothers Academy 60, Bishop Kearney 57, McQuaid Jesuit 54, Cardinal Mooney 49, Bishop Grimes 35, Archbishop Walsh 27, Bishop Ludden 5

Outstanding Wrestler Award - John Keating (END)

Championship Final (1st)



IF YOU HAVE ANY ADDITIONAL PHOTOS OR DOCUMENTATION FROM THIS EVENT, CONTACT INFO@ARMDRAG.COM.

Comments (8th Annual Rochester Diocesan Catholic Invitational Wrestling Championships and State Qualifier)