21st Annual Rochester Interscholastic League Wrestling Championships
April 6, 1951 @ John Marshall High School (Rochester, New York)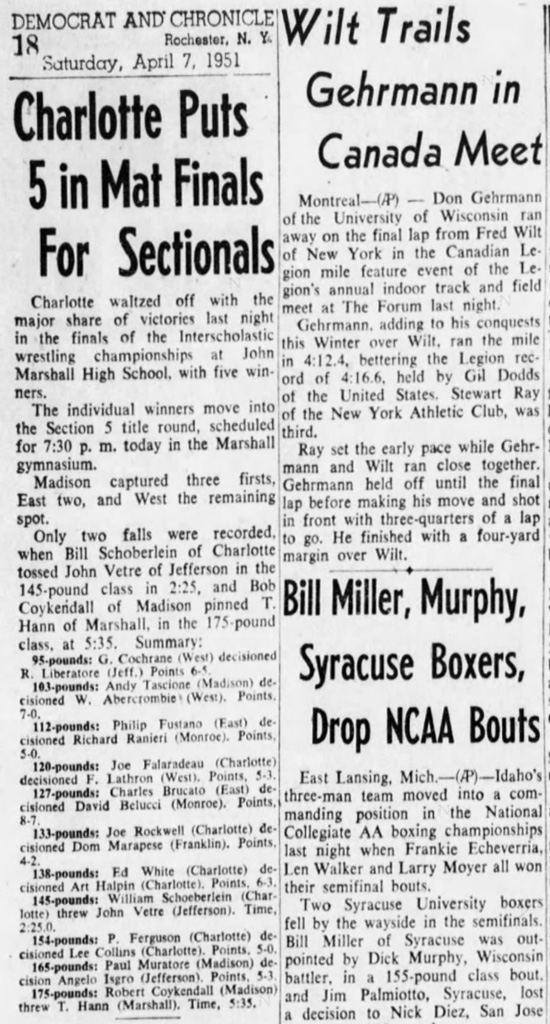 Charlotte Puts 5 in Mat Finals For Sectionals
Charlotte waltzed off with the major share of victories last night in the finals of the Interscholastic wrestling championships at John Marshall High School, with five winners. SOURCE: Rochester Democrat and Chronicle, Saturday, April 7, 1951. Reproduced by armdrag.com with permission. Click for larger image.

Varsity

Team Final

Charlotte (Rochester) 5, Madison (Rochester) 4, East High (Rochester) 2, West High (Rochester) 1, Edison Tech (Rochester) 0, Franklin (Rochester) 0, Jefferson (Rochester) 0, Marshall (Rochester) 0, Monroe (Rochester) 0

Championship Final (1st)



IF YOU HAVE ANY ADDITIONAL PHOTOS OR DOCUMENTATION FROM THIS EVENT, CONTACT INFO@ARMDRAG.COM.

Comments (21st Annual Rochester Interscholastic League Wrestling Championships)