54th Annual Rochester City-Catholic Invitational Wrestling Tournament
February 11, 1984 @ Edison Technical High School (Rochester, New York)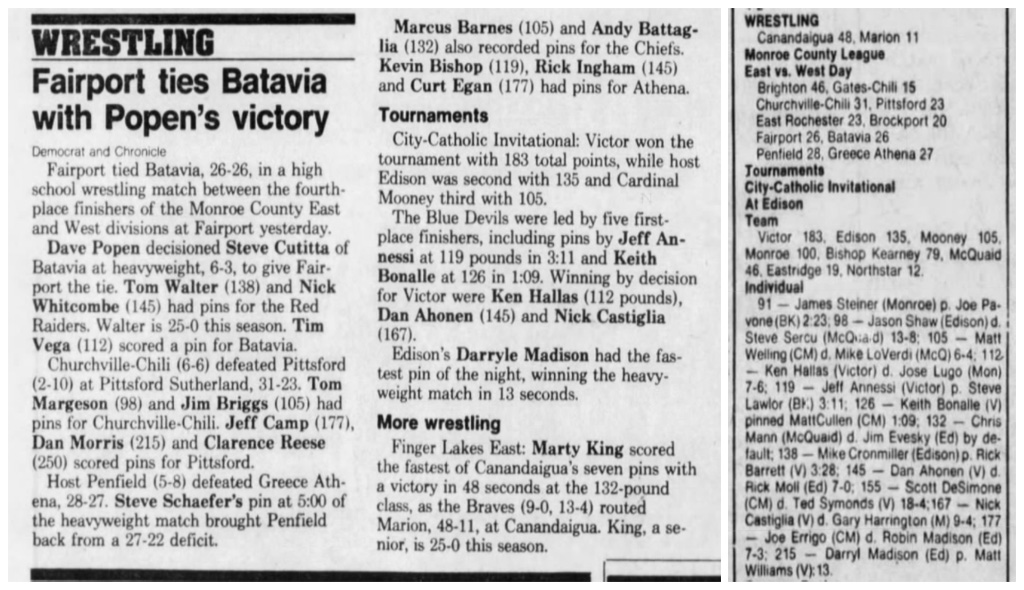 City-Catholic Invitational
Victor won the tournament with 183 total points, while host Edison was second with 135 and Cardinal Mooney third with 105. SOURCE: Rochester Democrat and Chronicle, Sunday, February 12, 1984. Reproduced by armdrag.com with permission. Click for larger image.

Varsity

Team Final

Victor 183, Edison Tech (Rochester) 135, Cardinal Mooney 105, Monroe (Rochester) 100, Bishop Kearney 79, McQuaid Jesuit 46, East Irondequoit Eastridge 19, Northstar Christian 12

Championship Final (1st)


Consolation Final (3rd)



IF YOU HAVE ANY ADDITIONAL PHOTOS OR DOCUMENTATION FROM THIS EVENT, CONTACT INFO@ARMDRAG.COM.

Comments (54th Annual Rochester City-Catholic Invitational Wrestling Tournament)