62nd Annual Rochester City-Catholic Lilac Invitational Wrestling Tournament
February 6, 1993 @ John Marshall High School (Rochester, New York)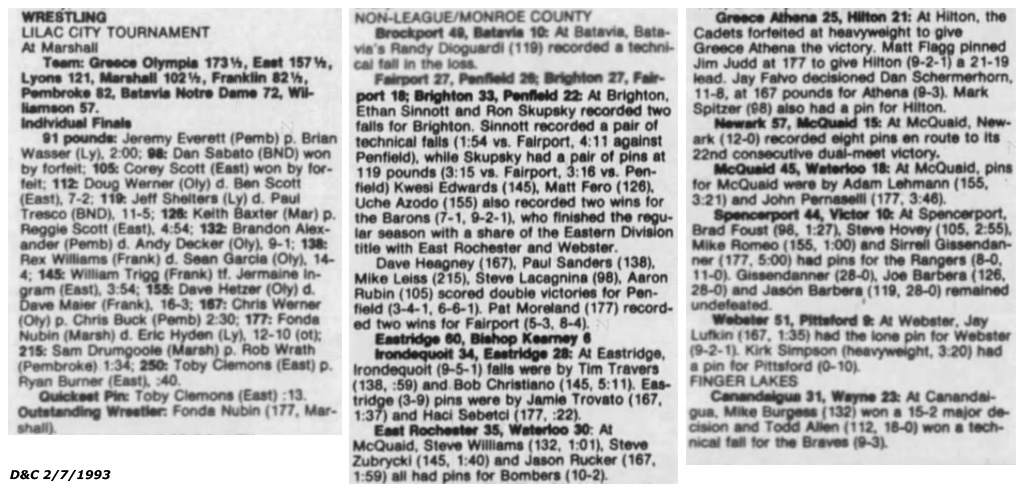 Lilac City Tournament
Greece Olympia took home the team title at the 1993 City-Catholic Invitational. SOURCE: Rochester Democrat and Chronicle, Sunday, February 7, 1993. Reproduced by armdrag.com with permission. Click for larger image.
Varsity

Team Final

Greece Olympia 173.5, East High (Rochester) 157.5, Lyons 121, Marshall (Rochester) 102.5, Franklin (Rochester) 82.5, Pembroke 82, Batavia Notre Dame 72, Williamson 57

Fastest Pin Award - Toby Clemens (EHR)
Outstanding Wrestler Award - Fonda Nubin (MR)

Championship Final (1st)



IF YOU HAVE ANY ADDITIONAL PHOTOS OR DOCUMENTATION FROM THIS EVENT, CONTACT INFO@ARMDRAG.COM.

Comments (62nd Annual Rochester City-Catholic Lilac Invitational Wrestling Tournament)