NYSPHSAA Section VI Class BB-B Wrestling Championships
February 26, 1971 - February 27, 1971 @ Franklinville High School (Franklinville, New York)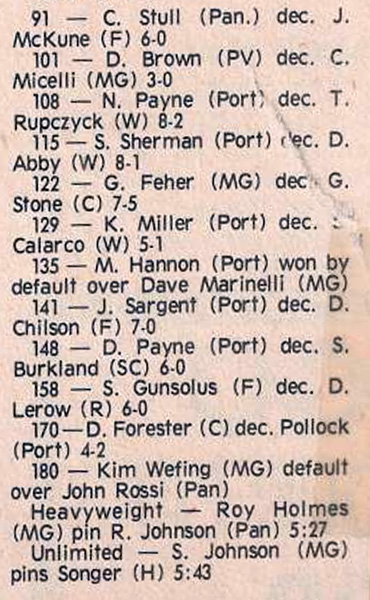 1971 Section VI Class BB-B Wrestling Finals
The results of the 1971 Section VI Class BB-B Wrestling Finals. Note that 91-pounds was contested for Class BB-B, even though it was not an official weight and not contested by any other class. SOURCE: Olean Times Herald, March 1971.

Varsity

Team Final

Portville 109, Maple Grove 70, Franklinville 55, Westfield 44, Pine Valley 40, Randolph 30, Cattaraugus 28, Panama 26, Silver Creek 18, Ripley 10, Holland 9

Outstanding Wrestler Award - Dave Forster (Cattaraugus)

Championship Final (1st)


Consolation Final (3rd)



IF YOU HAVE ANY ADDITIONAL PHOTOS OR DOCUMENTATION FROM THIS EVENT, CONTACT INFO@ARMDRAG.COM.

Comments (NYSPHSAA Section VI Class BB-B Wrestling Championships)