36th Annual NYSPHSAA Intersectional Wrestling Championships
March 6, 1998 - March 7, 1998 @ Onondaga County War Memorial (Syracuse, New York)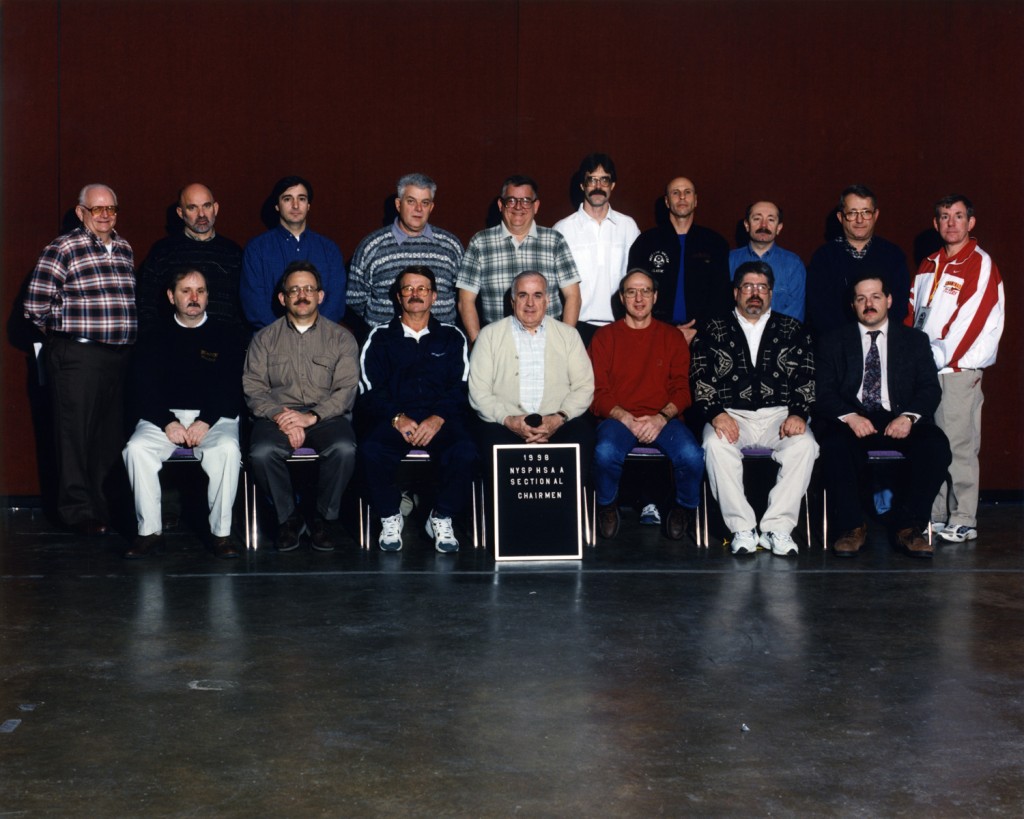 1998 NYSPHSAA Intersectional Wrestling Chairmen
Provided to armdrag.com by NYS Chairman Reed Hawke. Click for larger image.


Varsity

Teams

Attica, Averill Park, Baldwinsville, Ballston Spa, Beaver River, Bethlehem, Bethpage, Brentwood, Canton-Potsdam, Chaminade, Cooperstown, Corning, Dolgeville, East Rochester, Freeport, Galway, Gouverneur, Greece Olympia, Greene, Hampton Bays, Harry S. Truman, Hauppauge, Hornell, Huntington, Ilion, Ithaca, Johnson City, Kings Park, Levittown Division, Lindenhurst, Lockport, Longwood, MacArthur, Maple Grove, Massapequa, Middletown, Monroe-Woodbury, New Hartford, Niagara Wheatfield, Niskayuna, North Babylon, North Tonawanda, Northern Adirondack, Norwich, Ossining, Patchogue-Medford, Pittsford, Port Jervis, Portville, Queensbury, Ripley, Rush-Henrietta, Sachem, Salem, Sewanhaka, Shenendehowa, Shoreham-Wading River, Sleepy Hollow, South Jefferson, South Lewis, Suffern, Valley Central, Vernon-Verona-Sherrill, Vestal, Walton, Watertown, Wayne, Whitney Point

Region Final

Section IV 219, Section XI 209, Section II 204.5, Section VIII 192.5, Section III 188, Section IX 121, Section V 104.5, Section VI 100.5, Section I 77, Section X 40.5, Section VII 39, CHSAA 28, PSAL 6

Aggregate Pin Award - Dennis Clark (MW/Section IX)
Outstanding Wrestler Award - Josh Etu (Queensbury/Section II)

Championship Final (1st)


Consolation Final (3rd)


Consolation Final (5th)


Championship Semifinals



IF YOU HAVE ANY ADDITIONAL PHOTOS OR DOCUMENTATION FROM THIS EVENT, CONTACT INFO@ARMDRAG.COM.

Comments (36th Annual NYSPHSAA Intersectional Wrestling Championships)