Bishop Kearney vs. McQuaid Jesuit
February 11, 1967 @ Bishop Kearney High School (Rochester, New York)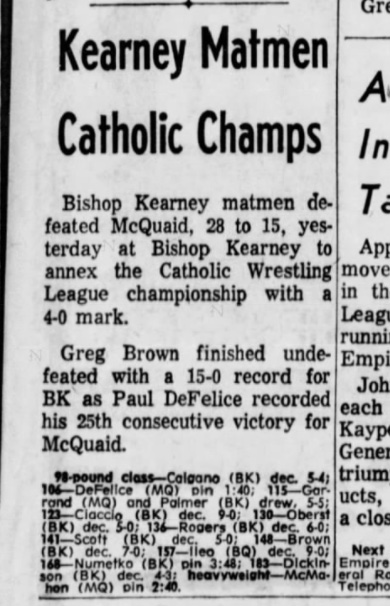 Kearney Matmen Catholic Champs
Bishop Kearney matmen defeated McQuaid, 28 to 15, yesterday at Bishop Kearney to annex the Catholic Wrestling League championship with a 4-0 mark. SOURCE: Rochester Democrat and Chronicle, Saturday, January 18, 1969. Reproduced by armdrag.com with permission. Click for larger image.
Varsity | Catholic Wrestling League
Bishop Kearney [NY] 28, McQuaid Jesuit [NY] 15
IF YOU HAVE ANY ADDITIONAL PHOTOS OR DOCUMENTATION FROM THIS EVENT, CONTACT INFO@ARMDRAG.COM.

Comments (Bishop Kearney vs. McQuaid Jesuit)