Rochester Institute of Technology vs. University at Buffalo
December 18, 1952 @ Irwin Brayton Clark Memorial Gymnasium (Buffalo, New York)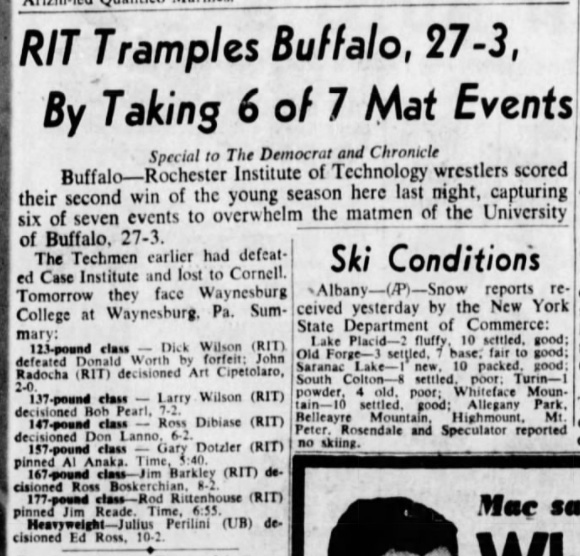 RIT Tramples Buffalo, 27-3, By Taking 6 of 7 Mat Events
Rochester institute of Technology wrestlers scored their second win of the young season here last night, capturing six of seven events to overwhelm the matmen of the University of Buffalo, 27-3. SOURCE: Rochester Democrat and Chronicle, Saturday, February 19, 1952. Reproduced by armdrag.com with permission.

Varsity
Rochester Institute of Technology [NY] 27, University at Buffalo [NY] 3
IF YOU HAVE ANY ADDITIONAL PHOTOS OR DOCUMENTATION FROM THIS EVENT, CONTACT INFO@ARMDRAG.COM.

Comments (Rochester Institute of Technology vs. University at Buffalo)