8th Annual Interstate Intercollegiate Individual Invitational Wrestling Tournament
March 14, 1941 - March 15, 1941 @ Cleveland Athletic Club (Cleveland, Ohio)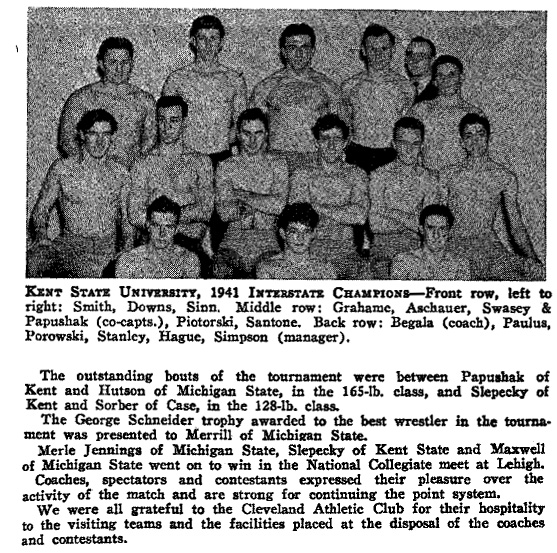 Kent State University, 1941 Interstate Champions
The outstanding bouts of the tournament were between Papushak of Kent and Hutson of Michigan State, in the 165-lb. class, and Slepecky of Kent and Sorber of Case, in the 128-lb. class. SOURCE: NCAA Wrestling Guide, 1942.




Varsity

Teams

Alfred University, Baldwin Wallace University [OH], Bowling Green State University [OH], Case School of Applied Science [OH], Kent State University [OH], Michigan State University [MI], Rochester Athenaeum and Mechanics Institute, University of Findlay [OH], Waynesburg University [PA]

Outstanding Wrestler Award - Leland Merrill (MSU)

Place Winners

121 1. Merle Jennings (MSU)
2. Iggy Mancuso (UF)
3. Don Sinn (KSU)
4. Manny Citron (CSAS)
128 1. Mike Siepecky (KSU)
2. Earl Sorber (CSAS)
3. Dwane Gettemy (WU)
4. J. Hamm (UF)
136 1. Bill Maxwell (MSU)
2. Bill Green (CSAS)
3. Duane Hague (KSU)
4. Royce Luce (AU)
145 1. Leland Merrill (MSU)
2. J. Diemert (UF)
3. Fred Swasey (KSU)
4. Bob Lease (CSAS)
155 1. John Abraham (WU)
2. Harry Lugert (RAMI)
3. David Pletz (MSU)
4. Dave Paulus (KSU)
165 1. George Papushak (KSU)
2. Charles Hutson (MSU)
3. John Ross (WU)
4. S. Hall (UF)
175 1. Joe Aschauer (KSU)
2. Frank Gren (UF)
3. Frank Baldwin (WU)
4. Bob Renner (RAMI)
HWT 1. Walt Porowski (KSU)
2. Mearl "Mike" Greene (AU)
3. Ben Saggese (RAMI)
4. Stan Walkowicz (WU)

Results not entered.

IF YOU HAVE ANY ADDITIONAL PHOTOS OR DOCUMENTATION FROM THIS EVENT, CONTACT INFO@ARMDRAG.COM.

Comments (8th Annual Interstate Intercollegiate Individual Invitational Wrestling Tournament)