Oklahoma State University vs. University of Iowa
February 10, 1984 @ Gallagher Hall, Oklahoma State University (Stillwater, Oklahoma)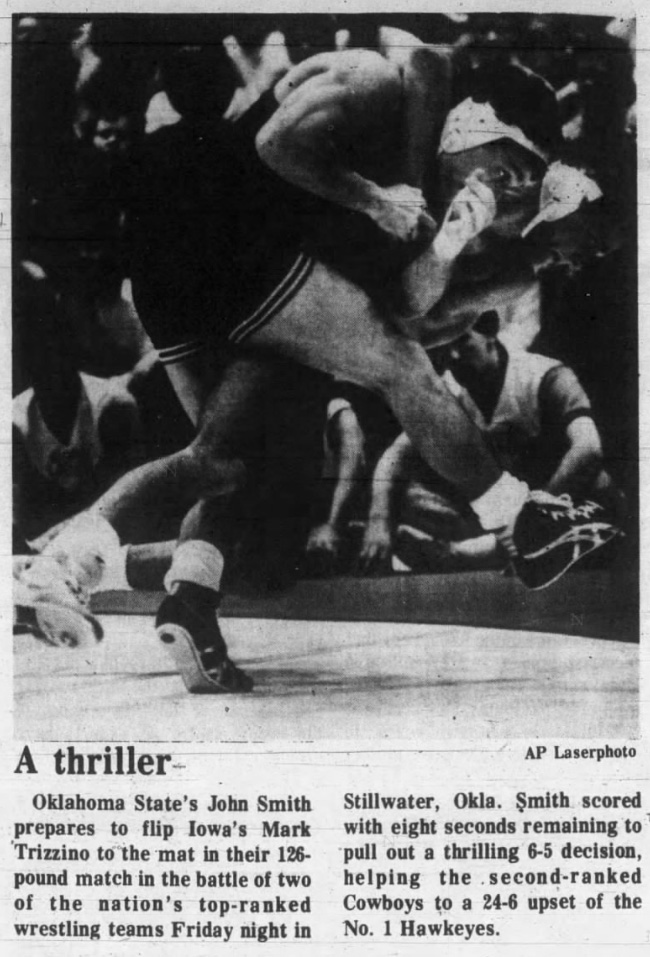 A thriller
Oklahoma State's John Smith prepares to flip Iowa's Mark Trizzino to the mat in their 126-pound match in the battle of two of the nation's top-ranked wrestling teams Friday night in Stillwater, Oklahoma. Smith scored with eight seconds remaining to pull out a thrilling 6-5 decision, helping the second-ranked Cowboys to a 24-6 upset of the no. 1 Hawkeyes. SOURCE: The Muscatine Journal, February 11, 1984. Click for larger image.
Varsity
Oklahoma State University [OK] 24, University of Iowa [IA] 6
IF YOU HAVE ANY ADDITIONAL PHOTOS OR DOCUMENTATION FROM THIS EVENT, CONTACT INFO@ARMDRAG.COM.

Comments (Oklahoma State University vs. University of Iowa)