15th Annual New York State Intercollegiate Wrestling Championships
January 20, 1984 - January 21, 1984 @ SUNY Binghamton (Vestal, New York)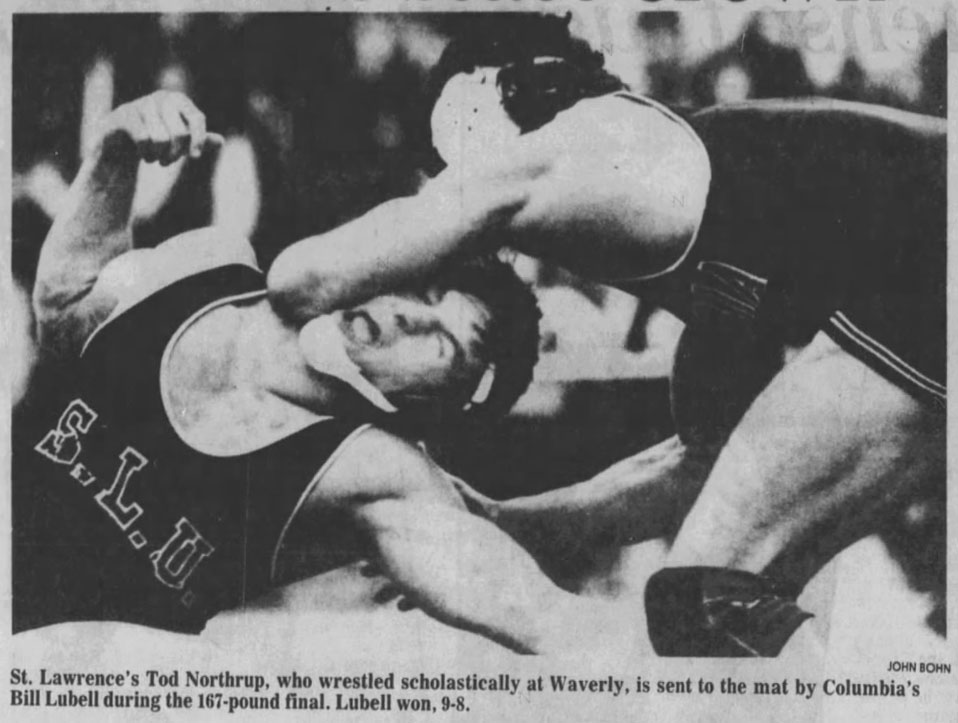 Tod Northrup vs. Bill Lubrell
St. Lawrence's Tod Northrup, who wrestled scholastically at Waverly, is sent to the mat by Columbia's Bill Lubell during the 167-pound final. Lubell won, 9-8. SOURCE: Binghamton Press, Sunday, January 22, 1984. Click for larger image.
Varsity

Team Final

Syracuse University 122, Cornell University 106.25, Columbia University 77.25, U.S. Military Academy (Army) 76.25, Hofstra University 76, St. Lawrence University 73.75, Ithaca College 72.25, Binghamton University 67, SUNY Brockport 52.75, SUNY Oswego 34.75, University at Buffalo 33.75, LIU Post 31.5, SUNY Oneonta 30.75, Clarkson College of Technology 19.5, SUNY Cortland 18.5, SUNY Maritime 13.5, University at Albany 12, U.S. Merchant Marine Academy 7, Rensselaer Polytechnic Institute 5, SUNY Potsdam 3.5, Rochester Institute of Technology 2

Outstanding Wrestler Award - Bill Lubell (CU)

Championship Final (1st)


Consolation Final (3rd)


Consolation Final (5th)



IF YOU HAVE ANY ADDITIONAL PHOTOS OR DOCUMENTATION FROM THIS EVENT, CONTACT INFO@ARMDRAG.COM.

Comments (15th Annual New York State Intercollegiate Wrestling Championships)