4th Annual Colgate Open Wrestling Tournament
November 8, 1974 - November 9, 1974 @ Colgate University (Hamilton, New York)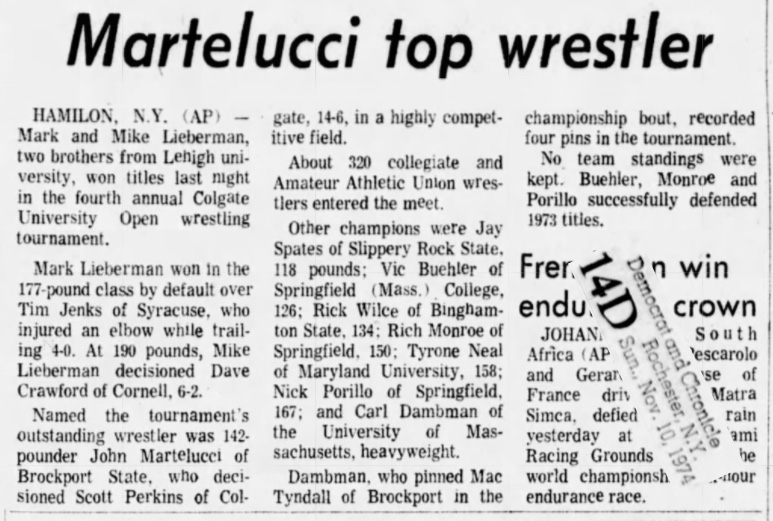 Martelucci top wrestler
Mark and Mike Lieberman, two brothers from Lehigh University, won titles last night in the fourth annual Colgate University Open wrestling tournament. SOURCE: Rochester Democrat and Chronicle, November 11, 1974. Reproduced by armdrag.com with permission.

Varsity

Teams

Ashland University [OH], Binghamton University, Colgate University, Cornell University, East Carolina University [NC], Lehigh University [PA], SUNY Brockport, Slippery Rock University [PA], Springfield College [MA], Syracuse University, University of Maryland, College Park [MD], University of Massachusetts, Amherst [MA], Yale University [CT]

Outstanding Wrestler Award - John Martellucci (Brockport)

Championship Final (1st)


Consolation Final (3rd)



IF YOU HAVE ANY ADDITIONAL PHOTOS OR DOCUMENTATION FROM THIS EVENT, CONTACT INFO@ARMDRAG.COM.

Comments (4th Annual Colgate Open Wrestling Tournament)