9th Annual Auburn Invitational Wrestling Tournament
December 29, 1967 @ Auburn Community College (Auburn, New York)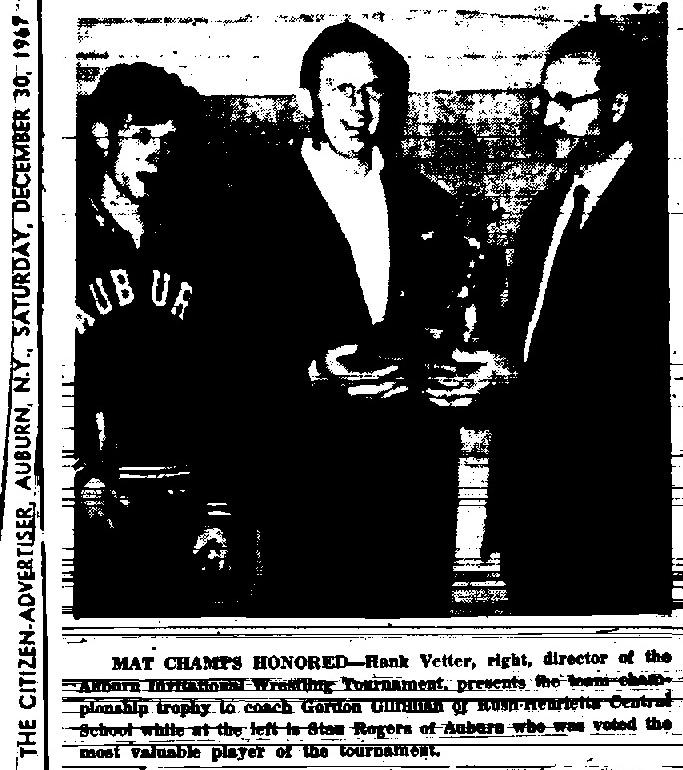 Mat Champs Honored
Hank Vetter, right, director of the Auburn invitational Wrestling Tournament, presents the team championship trophy to coach Gordan Gilfilian of Rush-Henrietta Central School while at the left is Stan Rogers of Auburn who was voted the most valuable player of the tournament. SOURCE: The Auburn Citizen-Advertiser, December 30, 1967. Click for larger image.


Varsity

Team Final

Rush-Henrietta 76, East Rochester 75, Mynderse 66, Auburn 50, Rome 30, Oneida 23, Jordan-Elbridge 17, Geneva 8

Fastest Pin Award - Jim Tortorici (ER)
Outstanding Wrestler Award - Stan Rogers (Auburn)

Place Winners

103 6. Dan DeChick (Auburn)

Championship Final (1st)


Consolation Final (3rd)


Consolation Final (5th)



IF YOU HAVE ANY ADDITIONAL PHOTOS OR DOCUMENTATION FROM THIS EVENT, CONTACT INFO@ARMDRAG.COM.

Comments (9th Annual Auburn Invitational Wrestling Tournament)