Conference of Upstate Private Schools Wrestling Championships
February 1, 1964 @ Allendale School (Rochester, New York)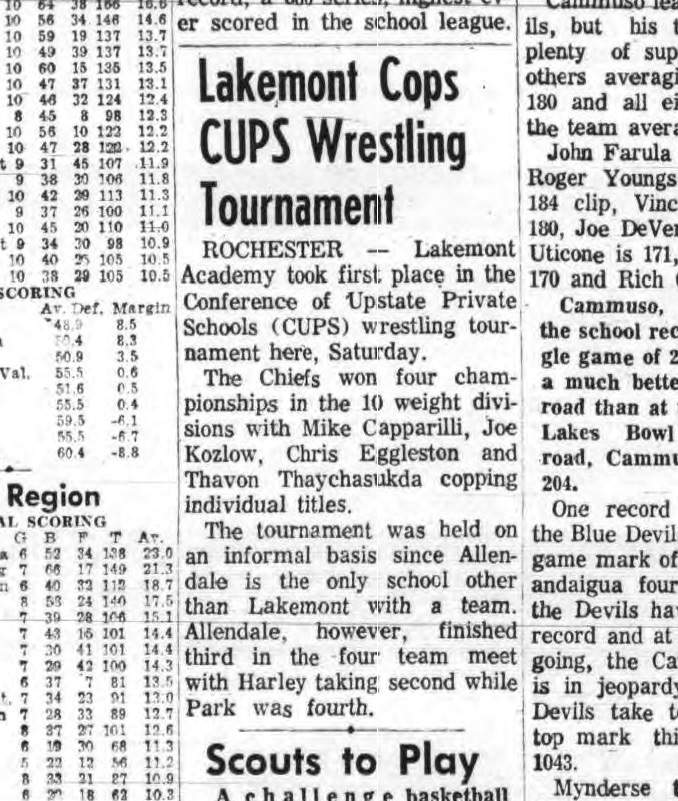 Lakemont Cops CUPS Wrestling Tournament
Lakemont Academy took first place in the Conference of Upstate Private Schools (CUPS) wrestling tournament. SOURCE: The Geneva Times, February 4, 1964. Click for larger image.
Varsity | CUPS

Teams

Allendale School, Lakemont Academy, Park (Buffalo), The Harley School

Place Winners

112 1. Thavorn Thaychasukda (LA)
120 1. Chris Eggleston (LA)
127 1. Mike Capparelli (LA)
165 1. Joe Kozlow (LA)

Results not entered.

IF YOU HAVE ANY ADDITIONAL PHOTOS OR DOCUMENTATION FROM THIS EVENT, CONTACT INFO@ARMDRAG.COM.

Comments (Conference of Upstate Private Schools Wrestling Championships)