Monroe County League Wrestling Championships
March 9, 1956 @ Webster High School (Webster, New York)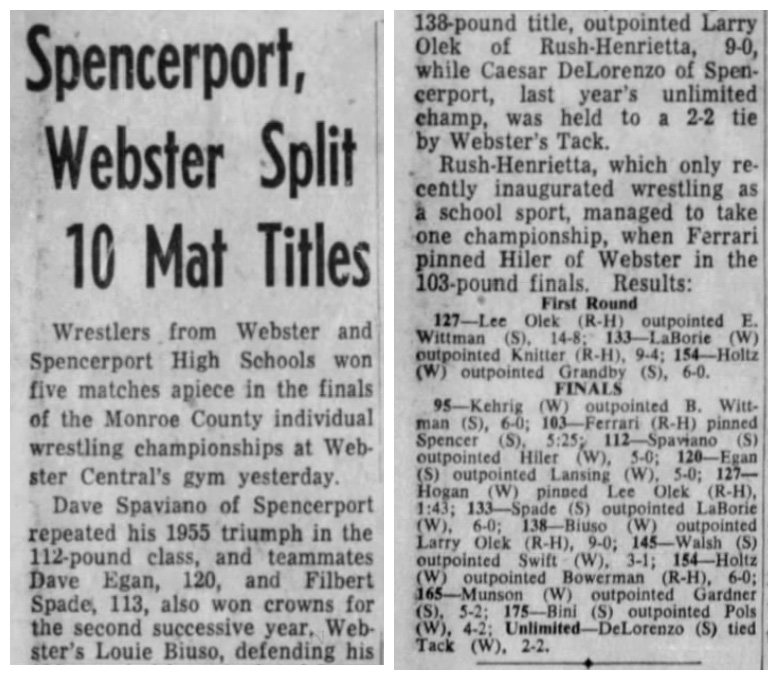 Spencerport, Webster Split 10 Mat Titles
Wrestlers from Webster and Spencerport High Schools won five matches apiece in the finals of the Monroe County individual wrestling championships at Webster Central's gym yesterday. SOURCE: Rochester Democrat and Chronicle, Saturday, March 10, 1956. Reproduced by armdrag.com with permission. Click for larger image.
Varsity

Team Final

Spencerport 5.5, Webster 5.5, Rush-Henrietta 1

Championship Final (1st)


Championship Semifinals



IF YOU HAVE ANY ADDITIONAL PHOTOS OR DOCUMENTATION FROM THIS EVENT, CONTACT INFO@ARMDRAG.COM.

Comments (Monroe County League Wrestling Championships)