5th Annual Hamburg Invitational Wrestling Tournament
February 14, 1981 @ Hamburg High School (Hamburg, New York)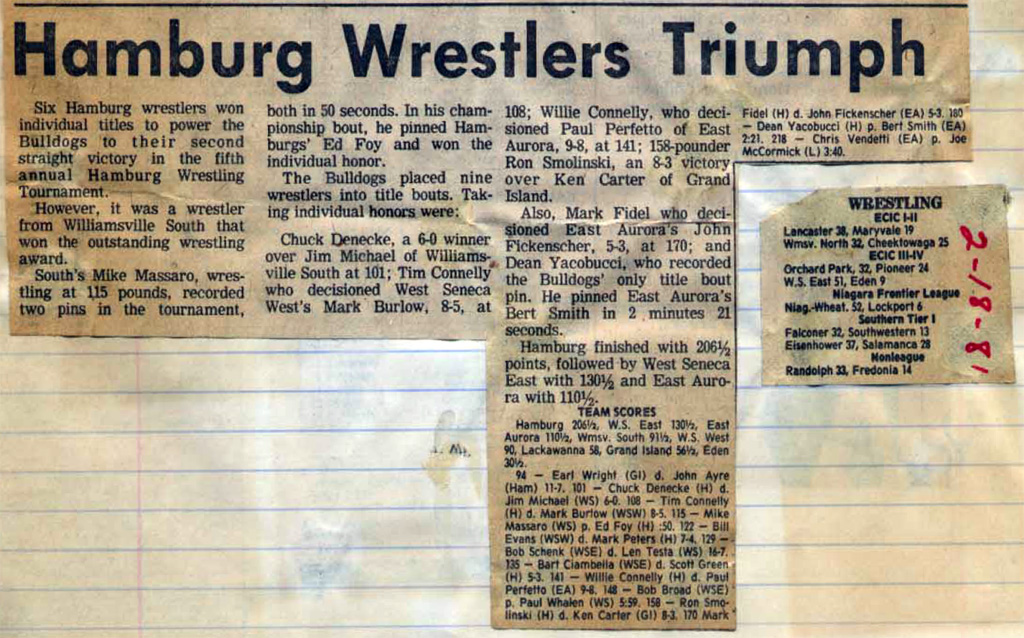 Hamburg Wrestlers Triumph
Six Hamburg wrestlers won individual titles to power the Bulldogs to their second straight victory in the fifth annual Hamburg Wrestling Tournament. SOURCE: The Buffalo News, February 15, 1981. Provided by Herman Guenther. Click for larger image.
Varsity

Team Final

Hamburg 206.5, West Seneca East 130.5, East Aurora 110.5, Williamsville South 91.5, West Seneca West 90, Lackawanna 58, Grand Island 56.5, Eden 30.5

Outstanding Wrestler Award - Mike Massaro (WS)

Championship Final (1st)



IF YOU HAVE ANY ADDITIONAL PHOTOS OR DOCUMENTATION FROM THIS EVENT, CONTACT INFO@ARMDRAG.COM.

Comments (5th Annual Hamburg Invitational Wrestling Tournament)