Rochester Institute of Technology vs. SUNY Cortland
January 10, 1953 @ Thomas Jefferson High School (Rochester, New York)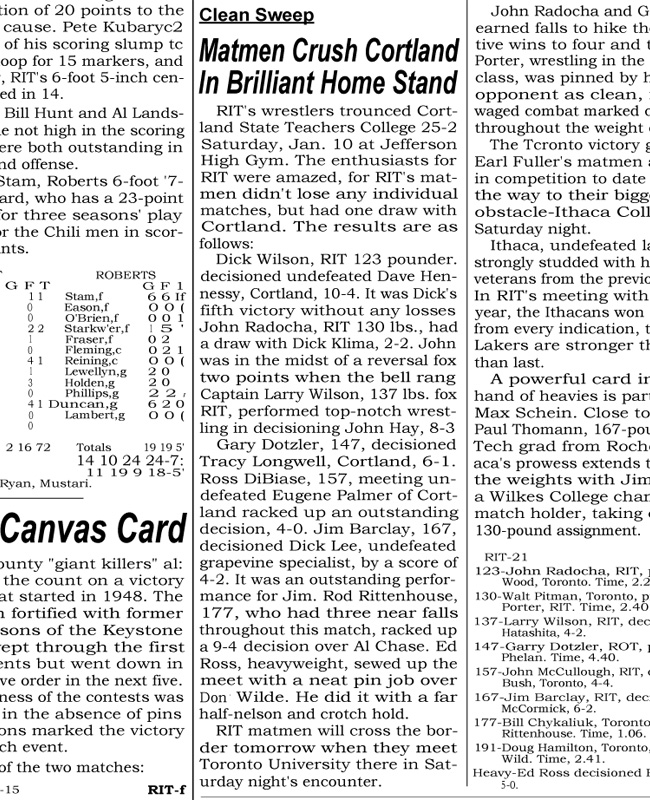 Matmen Crush Cortland In Brilliant Home Stand
CLEAN SWEEP. RIT's wrestlers trounced Cortland State Teachers College 25-2 Saturday, Jan. 10 at Jefferson High Gym. The enthusiasts for RIT were amazed, for RIT's matmen didn't lose any individual matches, but had one draw with Cortland. SOURCE: RIT Reporter, January 16, 1953. Reproduced by armdrag.com with permission from RIT. Click for larger image.
Varsity
Rochester Institute of Technology [NY] 25, SUNY Cortland [NY] 2
IF YOU HAVE ANY ADDITIONAL PHOTOS OR DOCUMENTATION FROM THIS EVENT, CONTACT INFO@ARMDRAG.COM.

Comments (Rochester Institute of Technology vs. SUNY Cortland)