5th Annual YMCA New York State Wrestling Championships
March 28, 1959 @ First Street YMCA (Niagara Falls, New York)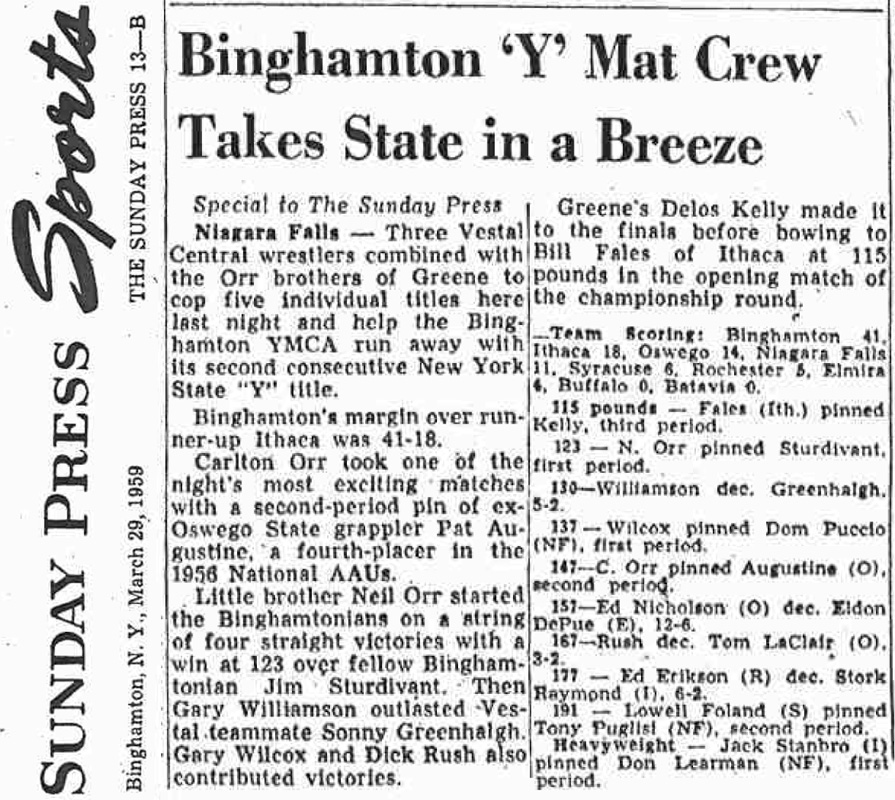 Binghamton 'Y' Mat Crew Takes State in a Breeze
Three Vestal Central wrestlers combined with the Orr brothers of Greene to cop five individual titles here last night and help the Binghamton YMCA run away with its second consecutive New York State 'Y' title. SOURCE: Binghamton Sunday, Press, March 29, 1959. Click for larger image.


Open

Team Final

Binghamton YMCA 41, Ithaca YMCA 18, Oswego YMCA 14, Niagara Falls YMCA 11, Central YMCA of Buffalo 7, Central YMCA of Rochester 5, Elmira YMCA 4, Batavia YMCA 0, Central YMCA of Syracuse 0

Championship Final (1st)



IF YOU HAVE ANY ADDITIONAL PHOTOS OR DOCUMENTATION FROM THIS EVENT, CONTACT INFO@ARMDRAG.COM.

Comments (5th Annual YMCA New York State Wrestling Championships)