19th Annual Caledonia-Mumford Christmas Wrestling Tournament
December 19, 1981 @ Caledonia-Mumford High School (Caledonia, New York)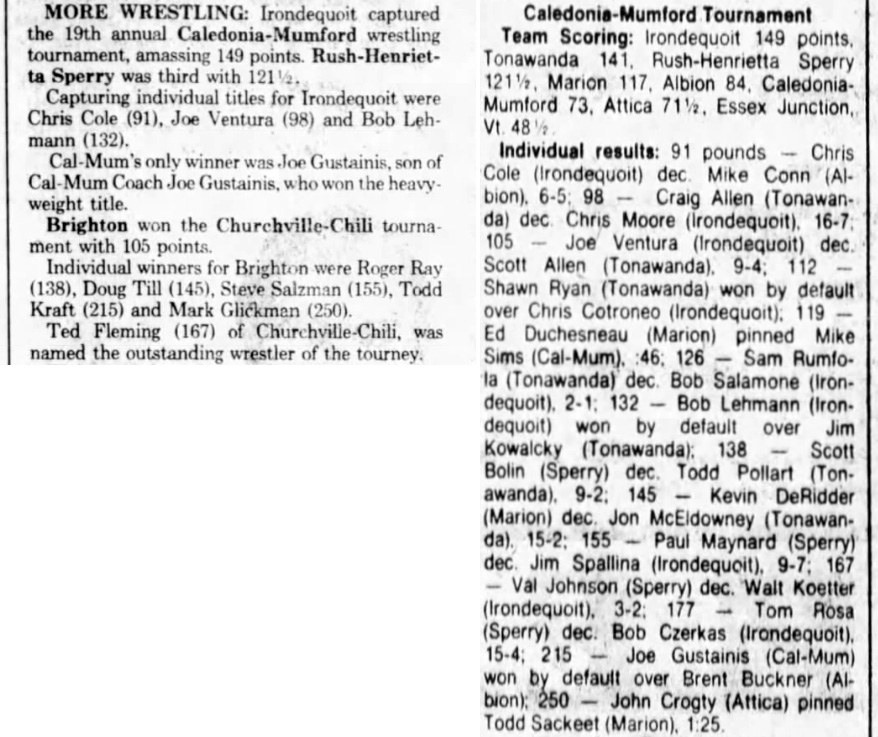 Caledonia-Mumford Tournament
Irondequoit captured the 18th annual Caledonia-Mumford wrestling tournament, amassing 149 points. SOURCE: Rochester Democrat and Chronicle, Sunday, December 20, 1982. Reproduced by armdrag.com with permission. Click for larger image.
Varsity

Team Final

Irondequoit 149, Tonawanda 141, Rush-Henrietta Sperry 121.5, Marion 117, Albion 84, Caledonia-Mumford 73, Attica 71.5, Essex Junction [VT] 48.5

Fastest Pin Award - Kevin DeRidder (Marion)

Championship Final (1st)


Consolation Final (3rd)



IF YOU HAVE ANY ADDITIONAL PHOTOS OR DOCUMENTATION FROM THIS EVENT, CONTACT INFO@ARMDRAG.COM.

Comments (19th Annual Caledonia-Mumford Christmas Wrestling Tournament)