NCAA Division III Wrestling Championships
March 6, 1987 - March 7, 1987 @ Alumni Arena, University at Buffalo (Buffalo, New York)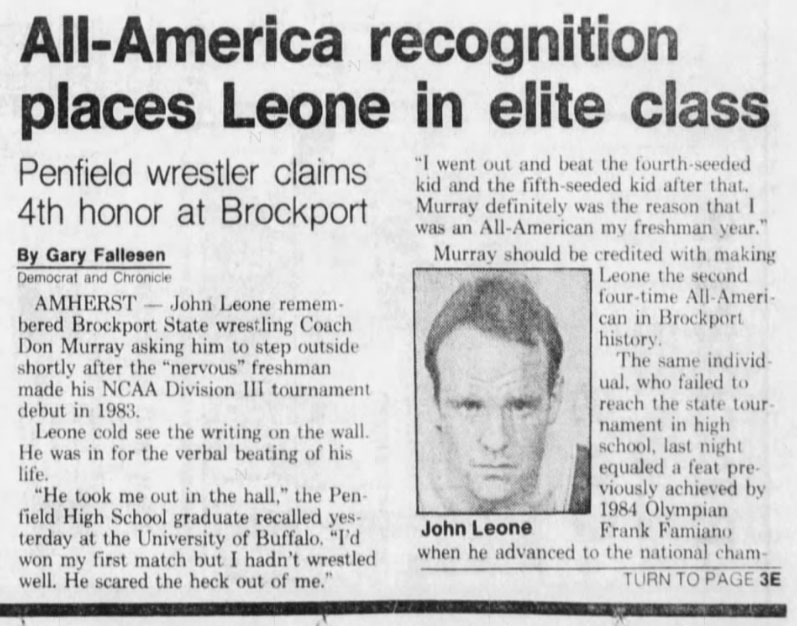 All-American recognition places Leone in elite class
John Leone remembered Brockport State wrestling Coach Don Murray asking him to step outside shortly after the 'nervous' freshman made his NCAA Division III tournament debut in 1983. Rochester Democrat and Chronicle,Sunday, March 8, 1987. Reproduced by armdrag.com with permission. Click for larger image.
Varsity

Team Final

The College of New Jersey [NJ] 107.5, SUNY Brockport 70.75, University at Albany 70.5, Montclair State University [NJ] 60.5, John Carroll University [OH] 52, University at Buffalo 50.7, University of Wisconsin-Whitewater [WI] 46.5, Central College [IA] 40.75, St. Lawrence University 36.5, Delaware Valley College [PA] 35, Augsburg College [MN] 0, Binghamton University 0, Cornell College [IA] 0, Glassboro State College [NJ] 0, Ithaca College 0, Kean University [NJ] 0, Luther College [IA] 0, MacMurray College [IL] 0, Ohio Northern University [OH] 0, Olivet College [MI] 0, SUNY Cortland 0, SUNY Oneonta 0, SUNY Oswego 0, St. Olaf College [MN] 0, University of Wisconsin-Platteville [WI] 0, Upper Iowa University [IA] 0, Wabash College [IN] 0, Western New England College [MA] 0

Outstanding Wrestler Award - John Monaco (MSU)

Championship Final (1st)


Consolation Final (3rd)


Consolation Final (5th)


Consolation Final (7th)



IF YOU HAVE ANY ADDITIONAL PHOTOS OR DOCUMENTATION FROM THIS EVENT, CONTACT INFO@ARMDRAG.COM.

Comments (NCAA Division III Wrestling Championships)