9th Annual Lockport Boosters and Sunrise Optimists Invitational Wrestling Tournament
January 11, 2002 - January 12, 2002 @ Lockport High School (Lockport, New York)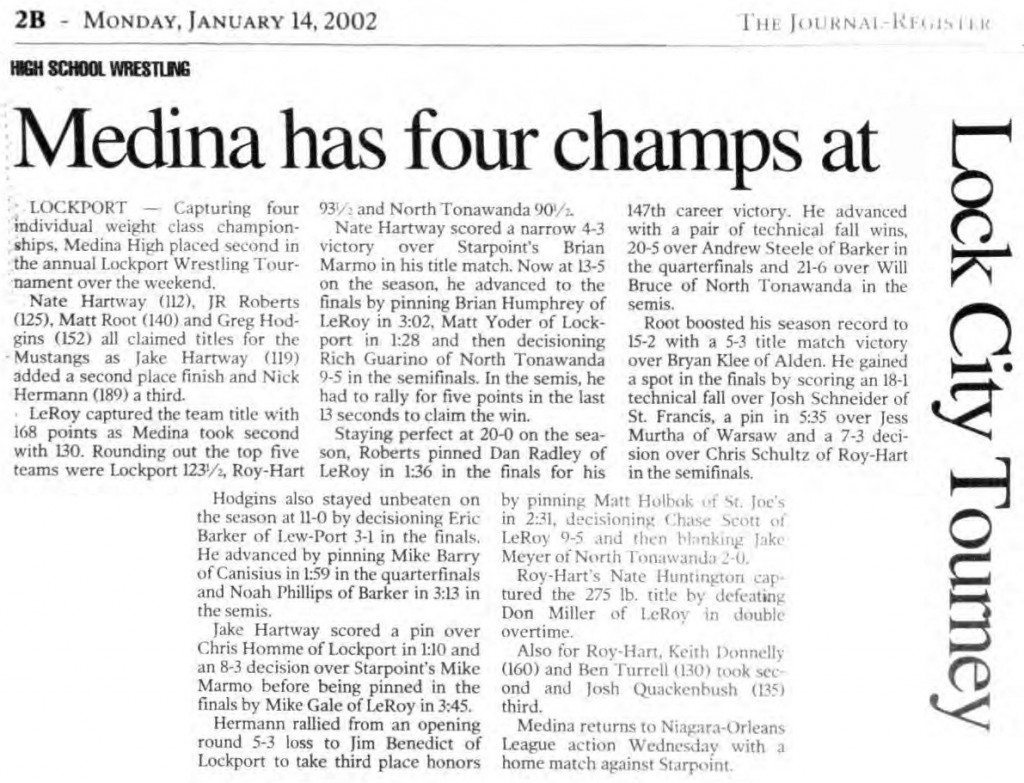 Medina has four champs at Lock City Tourney
Capturing four individual weight class championships, Medina High placed second in the annual Lockport Wrestling Tournament. SOURCE: The Medina Journal-Register, January 14, 2002. Click for larger image.
Varsity

Team Final

Le Roy 168, Medina 130, Lockport 123.5, Royalton-Hartland 93.5, North Tonawanda 90.5, Barker 68, Starpoint 60.5, Akron 58.5, St. Francis 57, Alden 55, Warsaw 50.5, Lewiston-Porter 49, St. Joseph's 22, Canisius 18.5, St. Mary's of Lancaster 8

Aggregate Pin Award - Mike Gale (LR)
Outstanding Wrestler Award - J.R. Roberts (Medina)

Championship Final (1st)


Consolation Final (3rd)



IF YOU HAVE ANY ADDITIONAL PHOTOS OR DOCUMENTATION FROM THIS EVENT, CONTACT INFO@ARMDRAG.COM.

Comments (9th Annual Lockport Boosters and Sunrise Optimists Invitational Wrestling Tournament)