42nd Annual Teike/Bernabi Wrestling Tournament
December 28, 2007 - December 29, 2007 @ Spencerport High School (Spencerport, New York)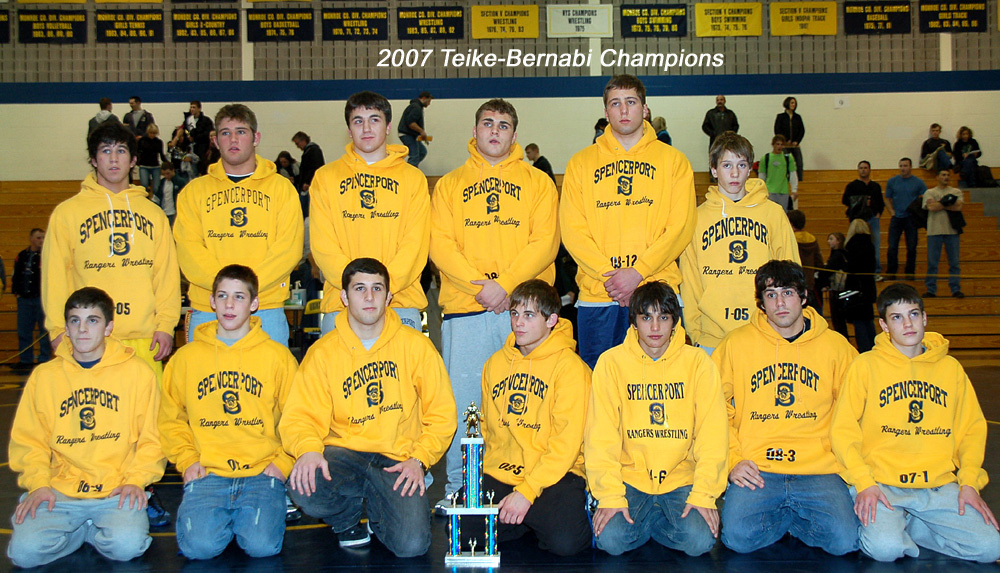 Team Champs
The Spencerport Rangers pose with their first place team trophy at the 42nd Annual Teike/Bernabi Spencerport Invitational Wrestling Tournament. FRONT ROW: Matt Piedimonte, Justin Melia, Bryan Bourne, Chris Collura, Zak Haas, Dan Maier, Mike Piedimonte. BACK ROW: Nick Terenzi, Justin Putt, Nick Baxter, Enzo Zagari, Paul Glover, Scott Barrett. Photo by Dale Parks. Click for larger image.
Slideshow: Awards

Varsity

Team Final

Spencerport 222.5, Johnson City 129, Shenendehowa 119, Lancaster 109.5, Cheektowaga 94.5, Rush-Henrietta 86.5, Morrisville-Eaton 77.5, Fredonia 67, Athens [PA] 65.5, La Salle Institute 63, Lake Forest [DE] 59, Warsaw 54, Greece Athena 38, St. Joseph's 15, Pembroke 9

Aggregate Pin Award - Hunter Meys (Shenendehowa)
Outstanding Wrestler Award - Hunter Meys (Shenendehowa)

Championship Final (1st)


Consolation Final (3rd)



IF YOU HAVE ANY ADDITIONAL PHOTOS OR DOCUMENTATION FROM THIS EVENT, CONTACT INFO@ARMDRAG.COM.

Comments (42nd Annual Teike/Bernabi Wrestling Tournament)