7th Annual Spencerport Lions Wrestling Tournament
December 29, 1972 - December 30, 1972 @ Spencerport High School (Spencerport, New York)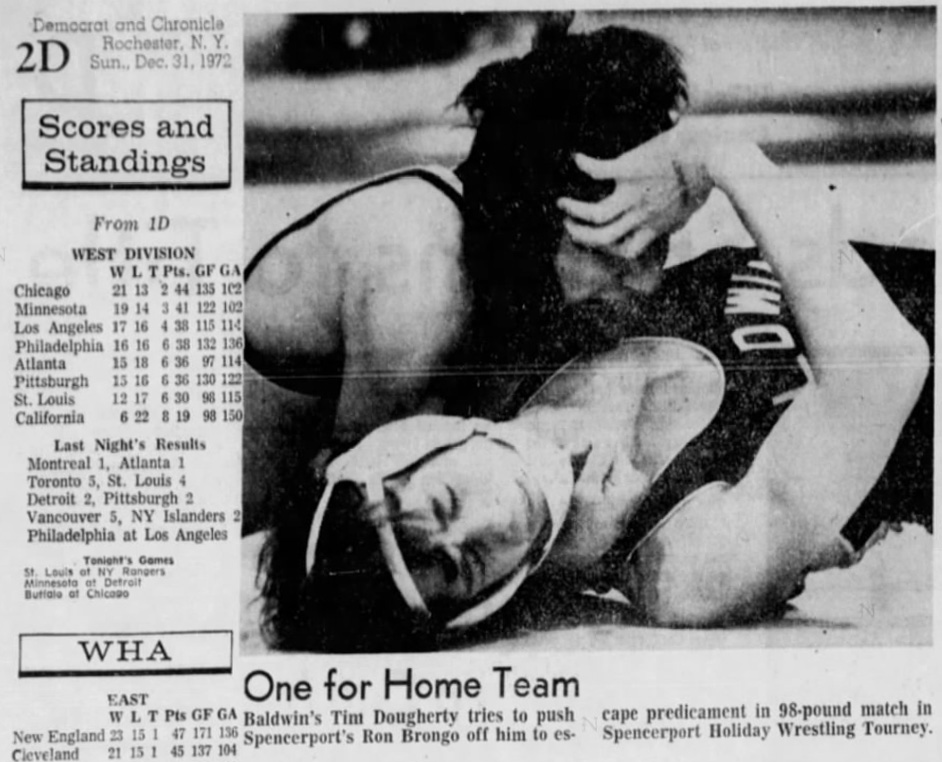 One for Home Team
Baldwin's Tim Dougherty tries to push Spencerport's Ron Brongo off him to escape predicament in 98-pound match in Spencerport Holiday Wrestling Tourney. SOURCE: Rochester Democrat and Chronicle, Sunday, December 31, 1972. Reproduced by armdrag.com with permission. Click for larger image.


Varsity

Team Final

Huntington 140, Spencerport 134.5, Baldwin 118.5, Caledonia-Mumford 105.5, Victor 103, Rush-Henrietta 93, Hilton 89, Greece Athena 87, Kenmore East 86, Bishop Kearney 79, Scotia-Glenville 58, Rush-Henrietta (B Team) 54, Spencerport (B Team) 49.5, Maine-Endwell 40.5, Geneva 38.5, Indian River 23

Place Winners

105 4. Mark Krug (Victor)
112 4. Richard Johnson (Victor)

Championship Final (1st)


Consolation Final (3rd)


Consolation Final (5th)


Consolation Final (7th)


Consolation Final (9th)



IF YOU HAVE ANY ADDITIONAL PHOTOS OR DOCUMENTATION FROM THIS EVENT, CONTACT INFO@ARMDRAG.COM.

Comments (7th Annual Spencerport Lions Wrestling Tournament)