8th Annual Spencerport Lions Wrestling Tournament
December 28, 1973 - December 29, 1973 @ Spencerport High School (Spencerport, New York)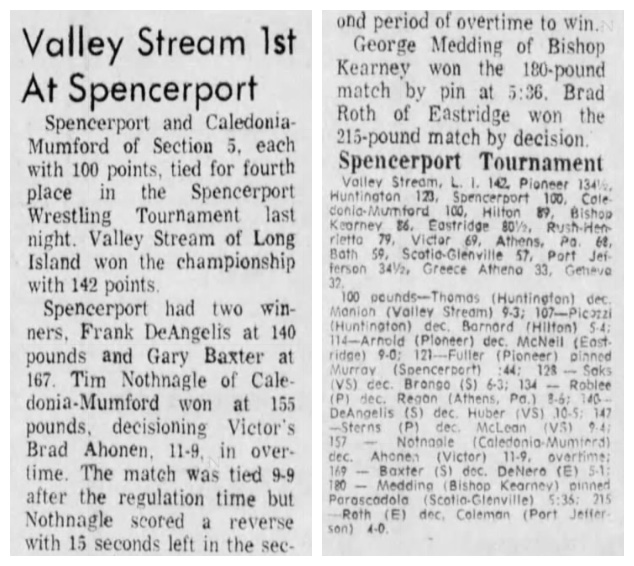 Valley Stream 1st At Spencerport
Spencerport and Caledonia-Mumford of Section 5, each with 100 points, tied for fourth place in the Spencerport Wrestling Tournament last night. Valley Stream of Long Island won the championship with 142 points. SOURCE: Rochester Democrat and Chronicle, Sunday, December 30, 1973. Reproduced by armdrag.com with permission.

Varsity

Team Final

Valley Stream 142, Pioneer 134.5, Huntington 123, Caledonia-Mumford 100, Spencerport 100, Hilton 89, Bishop Kearney 86, East Irondequoit Eastridge 80.5, Rush-Henrietta 79, Victor 69, Athens [PA] 68, Bath Haverling 59, Scotia-Glenville 57, Port Jefferson 34.5, Greece Athena 33, Geneva 32

Place Winners

145 6. Walt Masavage (Victor)

Championship Final (1st)


Consolation Final (5th)


Consolation Final (7th)



IF YOU HAVE ANY ADDITIONAL PHOTOS OR DOCUMENTATION FROM THIS EVENT, CONTACT INFO@ARMDRAG.COM.

Comments (8th Annual Spencerport Lions Wrestling Tournament)