22nd Annual Rotary/Bernabi Memorial Wrestling Tournament
December 29, 1987 - December 30, 1987 @ Spencerport High School (Spencerport, New York)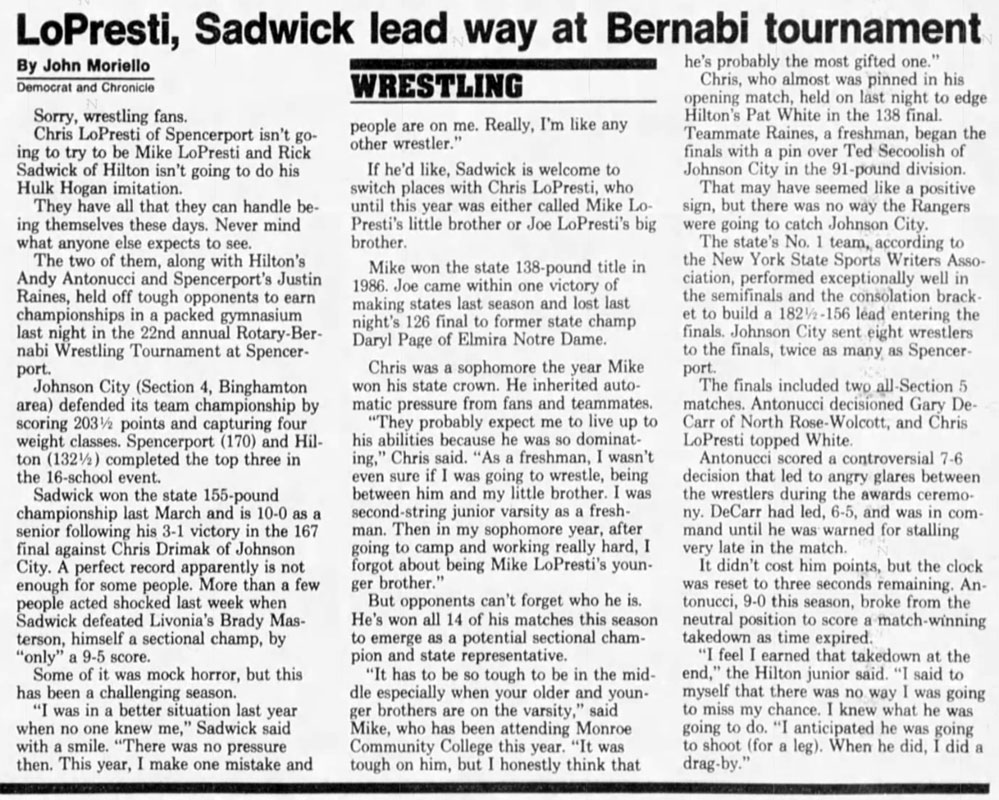 LoPresti, Sadwick lead way at Bernabi Tournament
Sorry, wrestling fans. Chris LoPresti of Spencerport isn't going to try to be Mike LoPresti and Rick Sadwick of Hilton isn't going to do his Hulk Hogan imitation. SOURCE: Rochester Democrat and Chronicle, December 31, 1987. Reproduced by armdrag.com with permission. Click for larger image.



Varsity

Team Final

Johnson City 203.5, Spencerport 170, Hilton 132.5, Bethlehem 114, North Rose-Wolcott 91.5, Cicero-North Syracuse 80, Athens [PA] 77, Brockport 75, Elmira Notre Dame 71.5, Cheektowaga 50, Niagara Wheatfield 45.5, Williamsville North 41, Lancaster 32, Horseheads 31.5, Monroe (Rochester) 20, Whitehall 17.5

Outstanding Wrestler Award - J.J. Stanbro (JC)

Place Winners

98 4. Nils Watson (END)
138 4. Grady Forbes (Athens)
4. Todd Kopalek (JC)
167 4. John Martin (Athens)
215 4. Chris Jurusik (END)

Championship Final (1st)


Consolation Final (3rd)



IF YOU HAVE ANY ADDITIONAL PHOTOS OR DOCUMENTATION FROM THIS EVENT, CONTACT INFO@ARMDRAG.COM.

Comments (22nd Annual Rotary/Bernabi Memorial Wrestling Tournament)