14th Annual Xerox Webster Invitational Wrestling Tournament
December 22, 1979 @ R.L. Thomas High School (Webster, New York)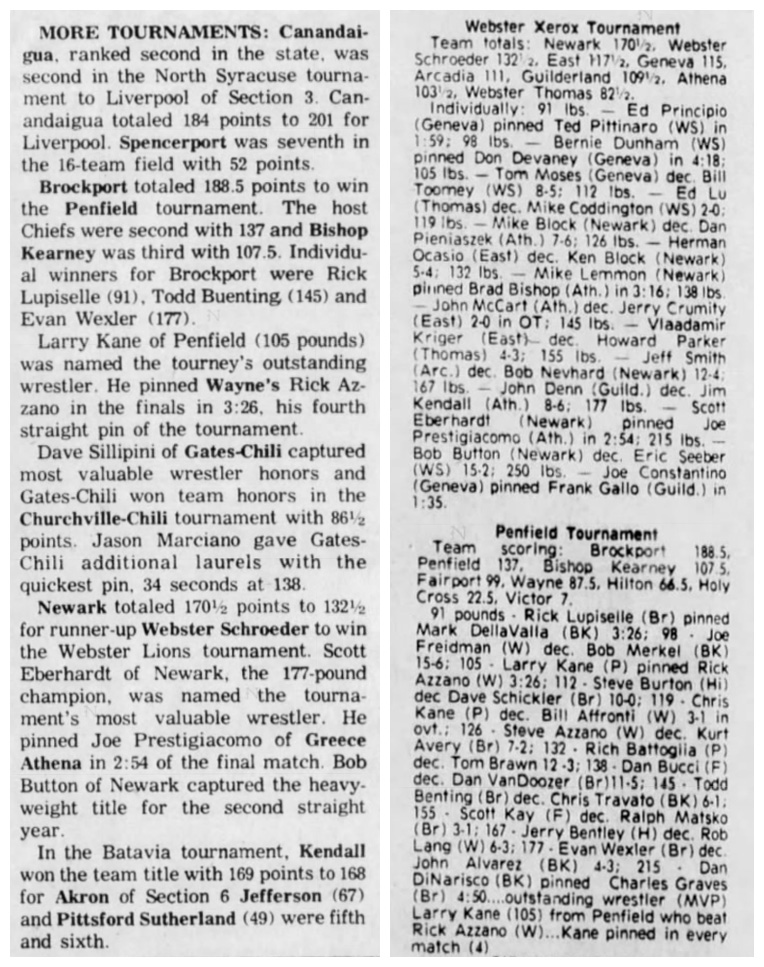 Webster Xerox Tournament
Newark totaled 170.5 points to 132.5 for runner-up Webster Schroeder to win the Webster Lions Tournament. Scott Eberhardt of Newark, the 177-pound champion, was named the tournament's most valuable wrestler. SOURCE: Rochester Democrat and Chronicle, Sunday, December 23, 1979. Reproduced by armdrag.com with permission. Click for larger image.
Varsity

Team Final

Newark 170.5, Webster Schroeder 132.5, East High (Rochester) 117.5, Geneva 115, Greece Arcadia 111, Guilderland 109.5, Greece Athena 103.5, Webster Thomas 82.5

Outstanding Wrestler Award - Scott Eberhardt (Newark)

Championship Final (1st)



IF YOU HAVE ANY ADDITIONAL PHOTOS OR DOCUMENTATION FROM THIS EVENT, CONTACT INFO@ARMDRAG.COM.

Comments (14th Annual Xerox Webster Invitational Wrestling Tournament)