7th Annual Town of Amherst Invitational Wrestling Tournament
January 25, 1975 @ Sweet Home High School (Amherst, New York)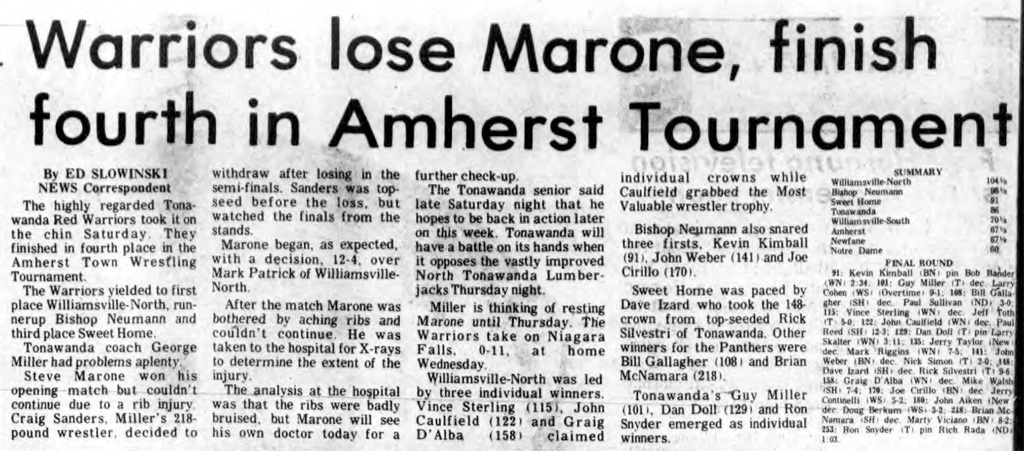 Warriors lose Marone, finish fourth in Amherst Tournament
The highly regarded Tonawanda Red Warriors took it on the chain Saturday. They finished in fourth place in the Amherst Town Wrestling Tournament. SOURCE: Tonawanda News, Monday, January 27, 1975. Click for larger image.


Varsity

Team Final

Williamsville North 104.5, Bishop Neumann 96.5, Sweet Home 91, Tonawanda 86, Williamsville South 70.5, Amherst 67.5, Newfane 67.5, Batavia Notre Dame 60

Aggregate Pin Award - Jon Aikin (Newfane)
Outstanding Wrestler Award - John Caulfield (WN)

Championship Final (1st)



IF YOU HAVE ANY ADDITIONAL PHOTOS OR DOCUMENTATION FROM THIS EVENT, CONTACT INFO@ARMDRAG.COM.

Comments (7th Annual Town of Amherst Invitational Wrestling Tournament)