6th Annual Town of Amherst Invitational Wrestling Tournament
February 2, 1974 @ Amherst High School (Buffalo, New York)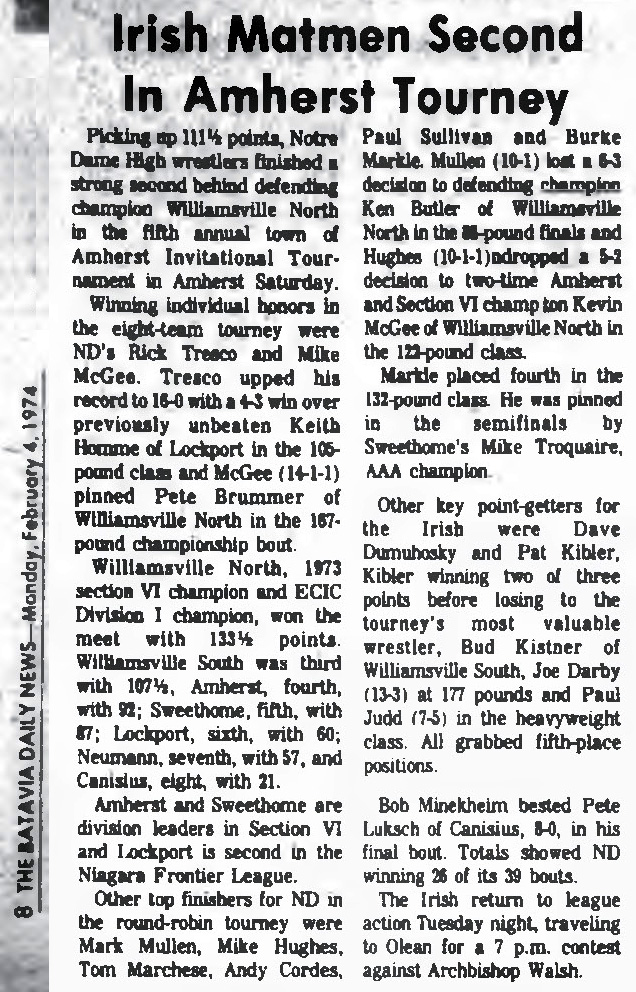 Irish Matmen Second In Amherst Tourney
Picking up 111-1/2 points, Notre Dame High wrestlers finished a strong second behind defending champion Williamsville North in the fifth (sixth?) annual town of Amherst Invitational Tournament in Amherst Saturday. SOURCE: The Batavia Daily News, February 4, 1974. Click for larger image.
Varsity

Team Final

Williamsville North 133.5, Batavia Notre Dame 111.5, Williamsville South 107.5, Amherst 86, Sweet Home 80, Bishop Neumann 76.5, Lockport 61, Canisius 21

Outstanding Wrestler Award - Bill Kistner (WS)
Aggregate Pin Award - Mitch Brown (WS)

Place Winners

132 4. Burke Markle (BND)

Championship Final (1st)


Consolation Final (5th)



IF YOU HAVE ANY ADDITIONAL PHOTOS OR DOCUMENTATION FROM THIS EVENT, CONTACT INFO@ARMDRAG.COM.

Comments (6th Annual Town of Amherst Invitational Wrestling Tournament)