18th Annual Salamanca Invitational Wrestling Tournament
February 3, 2001 @ Salamanca Central High School (Salamanca, New York)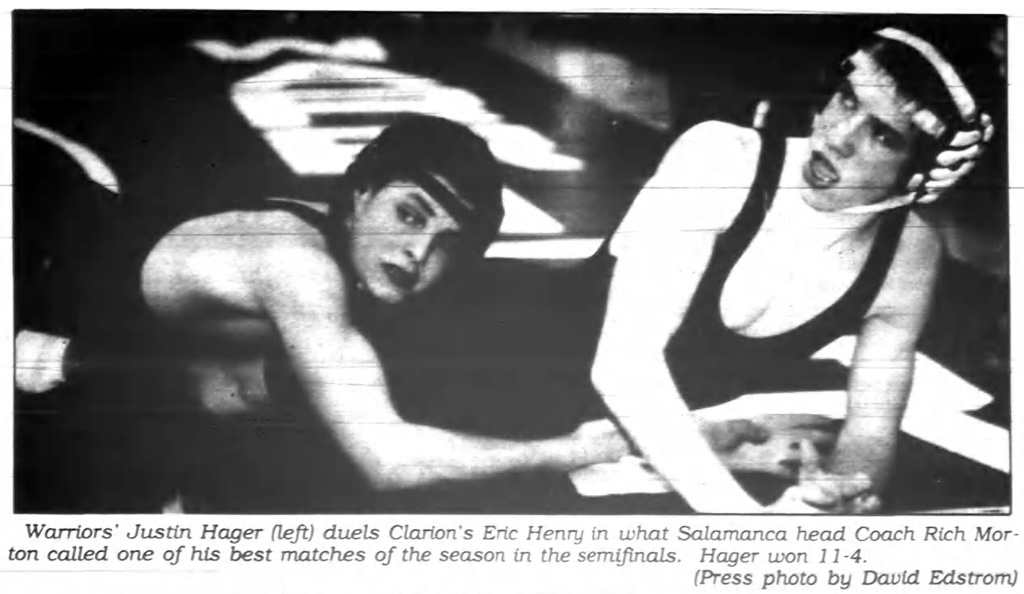 Justin Hager duels Eric Henry
Warrior's Justin Hager (left) duels Clarion's Eric Henry in what Salamanca head Coach Rich Morton called one of his best matches of the season in the semifinals. Hager won 11-4. Photo by David Edstrom. SOURCE: Salamanca Press, Monday, February 5, 2001. Click for larger image.

Varsity

Team Final

Clarion [PA] 192, Fredonia 183, Olean 145, Salamanca 132, Panama 117.5, Pine Valley 116, Bradford [PA] 114.5, Albion 108, Allegany-Limestone 85, Randolph 83.5, Bolivar-Richburg 83, Silver Creek 51, Franklinville 34, Westfield 34, Oswayo Valley [PA] 30

Outstanding Wrestler Award - Vic Arena (Salamanca)

Championship Final (1st)


Consolation Final (3rd)


Consolation Final (5th)



IF YOU HAVE ANY ADDITIONAL PHOTOS OR DOCUMENTATION FROM THIS EVENT, CONTACT INFO@ARMDRAG.COM.

Comments (18th Annual Salamanca Invitational Wrestling Tournament)