3rd Annual Penfield Holiday Wrestling Tournament
December 27, 1969 @ Penfield Central School (Penfield, New York)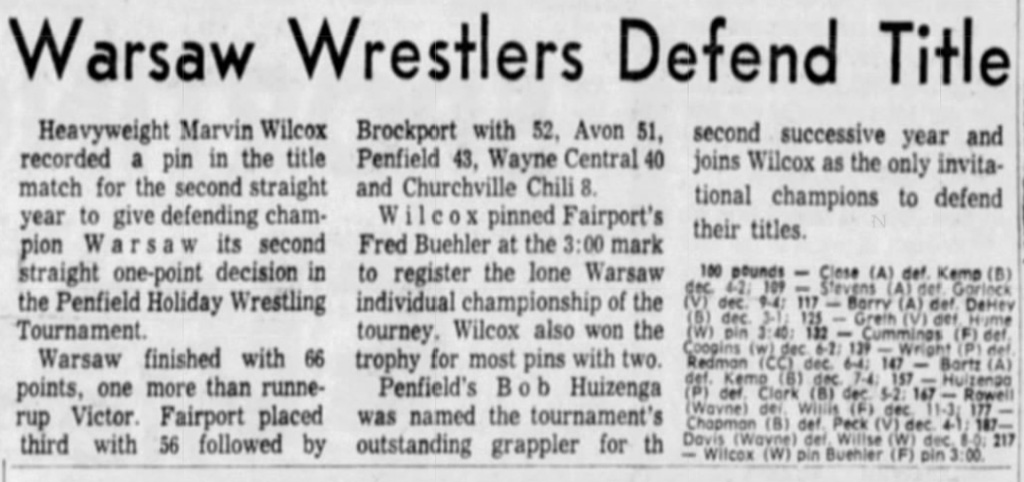 Warsaw Wrestlers Defend Title
Heavyweight Marvin Wilcox recorded a pin in the title match for the second straight year to give defending champion Warsaw its second straight one-point decision in the Penfield Holiday Wrestling Tournament. SOURCE: Rochester Democrat and Chronicle, Sunday, December 28, 1969. Reproduced by armdrag.com with permission. Click for larger image.

Varsity

Team Final

Warsaw 66, Victor 65, Fairport 56, Brockport 52, Avon 51, Penfield 43, Wayne 40, Churchville-Chili 8

Outstanding Wrestler Award - Bob Huizenga (Penfield)

Championship Final (1st)


Consolation Final (3rd)



IF YOU HAVE ANY ADDITIONAL PHOTOS OR DOCUMENTATION FROM THIS EVENT, CONTACT INFO@ARMDRAG.COM.

Comments (3rd Annual Penfield Holiday Wrestling Tournament)