11th Annual Maple Grove Kickoff Classic
December 3, 2016 @ Maple Grove High School (Maple Grove, New York)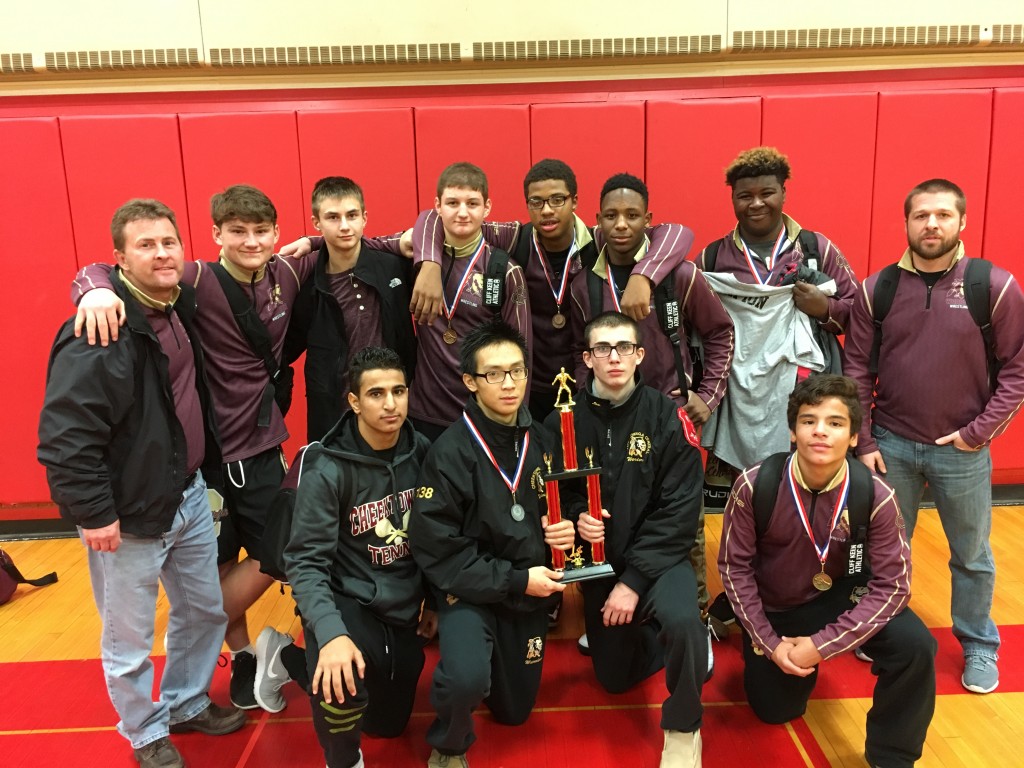 Warriors
Cheektowaga took home first place honors at the Maple Grove Kickoff Wrestling Classic. Without a senior in their lineup, the young Warrior team placed 8 of 11 wrestlers entered and won 3 championships: Junior Kiar Parker at 285 lbs., Sophomore Austin Sliwinski at 138 lbs., and Tyler Le at 113 lbs. Junior Huy Dang placed second, Taivaughn Roach, Austin Domanowski and Caleb Graves placed 3rd, and Logan Wagner rounded out placing 4th. Provided by Coach Matt Haberl. Click for larger image.
Varsity

Teams

Cattaraugus-Little Valley, Cheektowaga, Falconer, Fredonia, Frewsburg, Lackawanna, Maple Grove, Salamanca, Southwestern, Springville-Griffith, St. Mary's of Lancaster

Place Winners

126 1. A.J. Putt (MG)
2. Khawlan Abdallah (Lackawanna)
132 1. Sam Grey (CLV)
2. Jabreel Almontaser (Lackawanna)
138 1. Austin Sliwinski (Cheektowaga)
2. Torri Ball (Salamanca)
152 1. Ceric Kristan (Fredonia)
2. Tyler Penrod (CLV)
170 1. Dakota Crawford (CLV)
1. Matthew Evans (SG)
182 1. Austin Genberg (CLV)
2. Jordan Stebbins (Fredonia)
195 1. Jarod Sanfilippo (Frewsburg)
2. Zach Wise (Falconer)
220 1. Jake Skinner (Fredonia)
2. Mohsen Saleh (Lackawanna)
285 1. Kiar Parker (Cheektowaga)
2. Seth Bennett (Southwestern)

Championship Final (1st)



IF YOU HAVE ANY ADDITIONAL PHOTOS OR DOCUMENTATION FROM THIS EVENT, CONTACT INFO@ARMDRAG.COM.

Comments (11th Annual Maple Grove Kickoff Classic)