Tri-County Holiday Wrestling Tournament
December 22, 1973 @ Allegany Central School (Allegany, New York)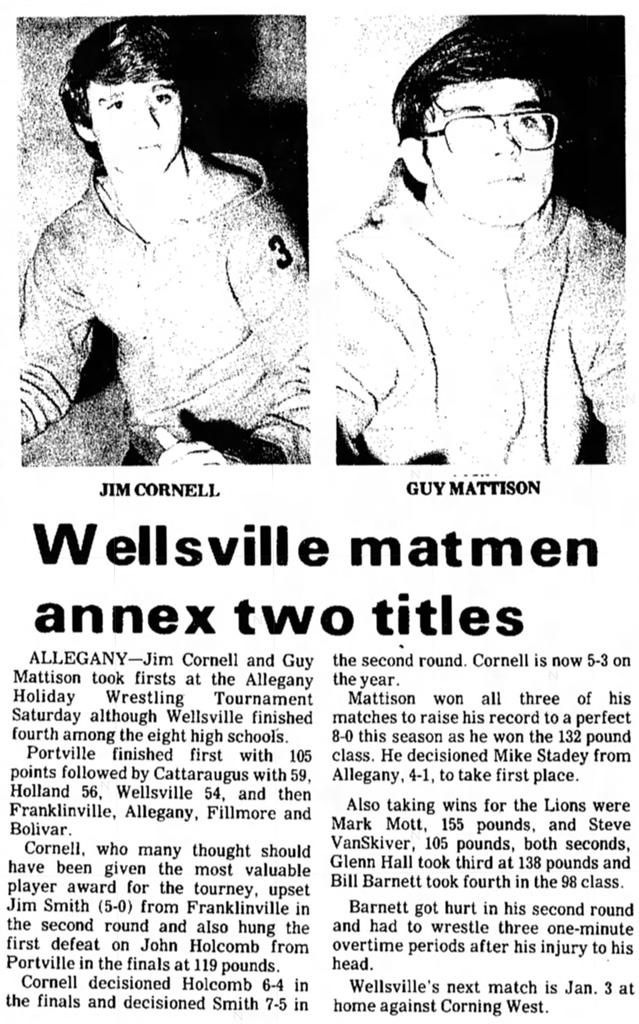 Wellsville matmen annex two titles
Jim Cornell and Guy Mattison took firsts at the Allegany Holiday Wrestling Tournament although Wellsville finished fourth among the eight high schools. SOURCE: Wellsville Daily Reporter, December 24, 1973. Click for larger image.

Varsity

Team Final

Portville 105, Cattaraugus 59, Holland 56, Wellsville 54, Allegany 0, Bolivar 0, Fillmore 0, Franklinville 0

Outstanding Wrestler Award - Skip Lord (Franklinville)

Place Winners

98 4. Bill Barnett (Wellsville)
105 2. Steve Van Skiver (Wellsville)
138 3. Glen Hall (Wellsville)
155 2. Mark Mott (Wellsville)

Championship Final (1st)



IF YOU HAVE ANY ADDITIONAL PHOTOS OR DOCUMENTATION FROM THIS EVENT, CONTACT INFO@ARMDRAG.COM.

Comments (Tri-County Holiday Wrestling Tournament)