19th Annual Portville Invitational Wrestling Tournament
December 14, 1996 @ Portville High School (Portville, New York)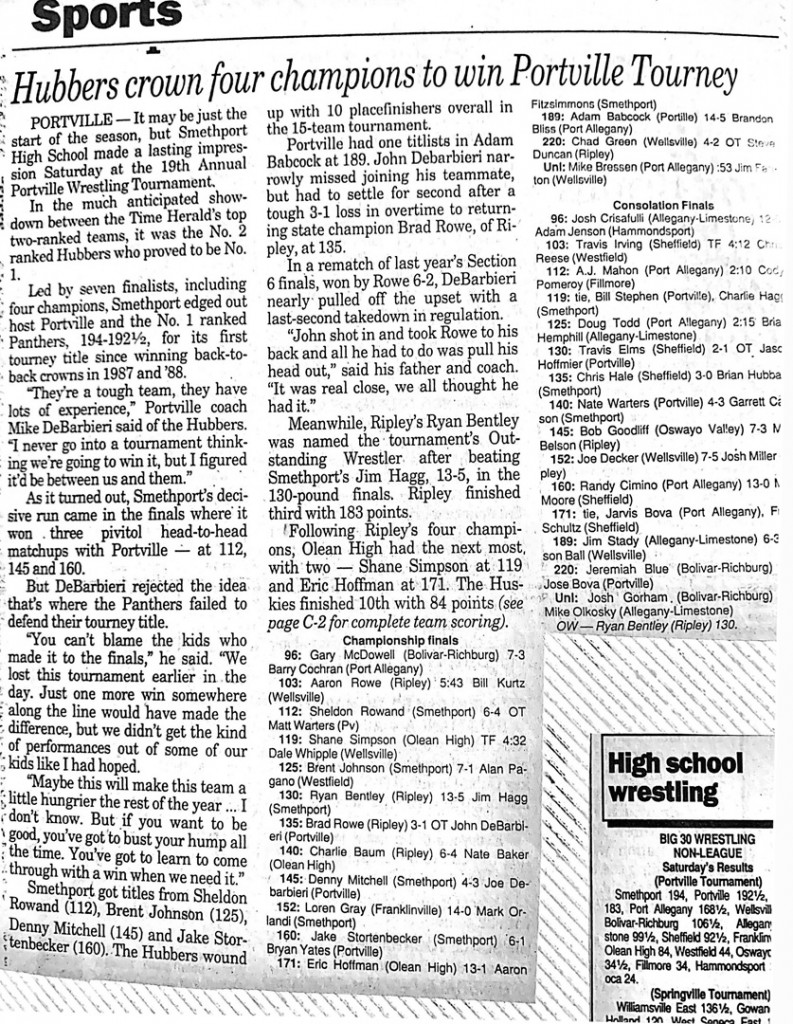 Hubbers crown four champions to win Portville tourney
It may be just the start of the season, but Smethport High School made a lasting impression Saturday at the 19th Annual Portville Wrestling Tournament. Click for larger image.

Varsity

Team Final

Smethport [PA] 194, Portville 192.5, Ripley 183, Port Allegany [PA] 168.5, Wellsville 110, Bolivar-Richburg 106.5, Allegany-Limestone 99.5, Sheffield [PA] 92.5, Franklinville 90, Olean 84, Westfield 44, Oswayo Valley [PA] 34.5, Fillmore 34, Hammondsport 30, Avoca 24

Outstanding Wrestler Award - Ryan Bentley (Ripley)

Place Winners

119 4. Bill Stephen (Portville)
4. Charlie Hagg (Smethport)
171 4. Frank Schultz (Sheffield)
4. Jarvis Bova (PA)

Championship Final (1st)


Consolation Final (3rd)



IF YOU HAVE ANY ADDITIONAL PHOTOS OR DOCUMENTATION FROM THIS EVENT, CONTACT INFO@ARMDRAG.COM.

Comments (19th Annual Portville Invitational Wrestling Tournament)