12th Annual RIT Wrestling Invitational
December 2, 1977 - December 3, 1977 @ Clark Gym, RIT (Rochester, New York)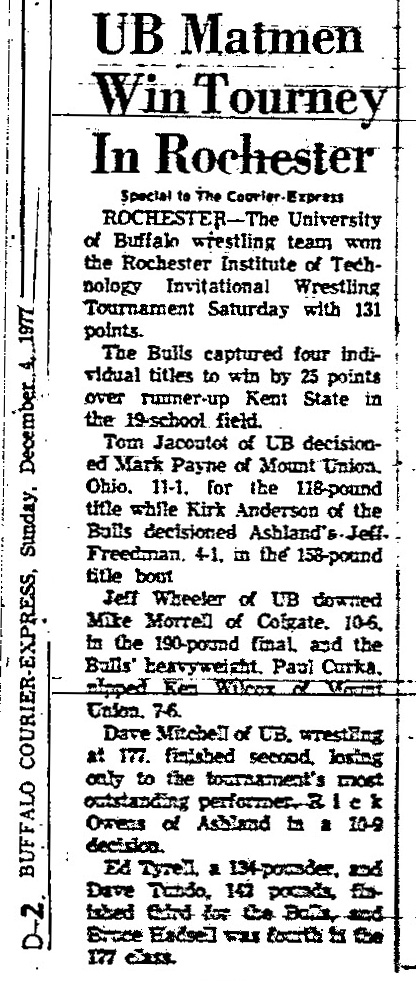 UB Matmen Win Tourney In Rochester
The University of Buffalo wrestling tea won the Rochester Institute of Technology Invitational Wrestling Tournament Saturday with 131 points. SOURCE: Buffalo Courier-Express, December 4, 1977. Click for larger image.



Varsity

Team Final

University at Buffalo 131, Kent State University [OH] 106, Ohio State University [OH] 102.25, Ashland University [OH] 71.75, SUNY Cortland 57, Colgate University 56.5, St. Lawrence University 56.5, University of Notre Dame [IN] 54.5, SUNY Brockport 40.5, SUNY Oswego 39, Mount Union College [OH] 34.5, University of Guelph [ON] 23.25, SUNY Potsdam 17, SUNY Geneseo 14, Rochester Institute of Technology 12, St. John Fisher College 3.5, University of Rochester 3.5, Clarkson College of Technology 2.5, Ithaca College 1.5

Outstanding Wrestler Award - Rick Owens (AU)

Place Winners

118 6. Casey Gianagaspro (KSU)
177 4. Bruce Hadsell (UB)

Championship Final (1st)


Consolation Final (3rd)


Consolation Final (5th)



IF YOU HAVE ANY ADDITIONAL PHOTOS OR DOCUMENTATION FROM THIS EVENT, CONTACT INFO@ARMDRAG.COM.

Comments (12th Annual RIT Wrestling Invitational)