9th Annual Greece Arcadia Invitational Wrestling Tournament
December 28, 1974 @ Greece Arcadia High School (Rochester, New York)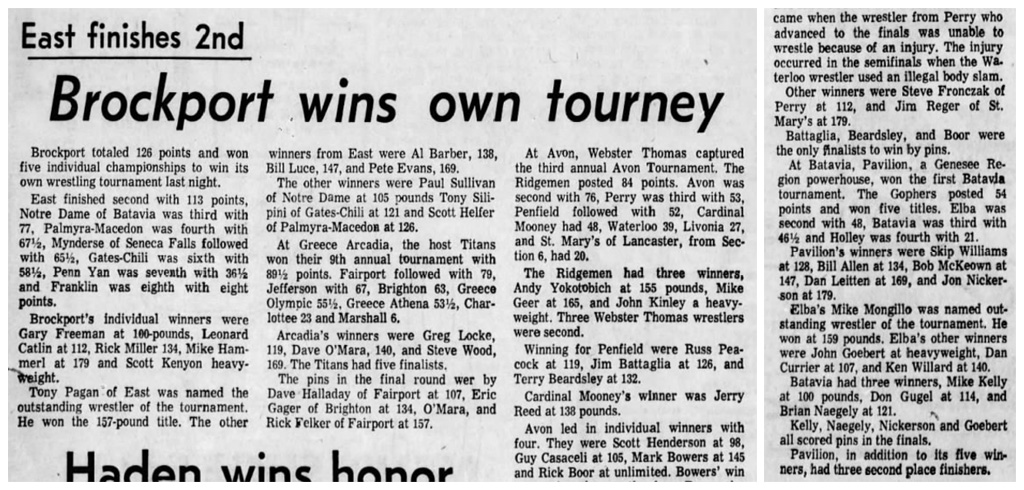 Arcadia wins own tourney
At Greece Arcadia, the host Titans won their 9th annual tournament with 89.5 points. SOURCE: Rochester Democrat and Chronicle, Sunday, December 29, 1974. Reproduced by armdrag.com with permission. Click for larger image.
Varsity

Team Final

Greece Arcadia 89.5, Fairport 79, Jefferson (Rochester) 67, Brighton 63, Greece Olympia 55.5, Greece Athena 53.5, Charlotte (Rochester) 24, Marshall (Rochester) 6

Championship Final (1st)



IF YOU HAVE ANY ADDITIONAL PHOTOS OR DOCUMENTATION FROM THIS EVENT, CONTACT INFO@ARMDRAG.COM.

Comments (9th Annual Greece Arcadia Invitational Wrestling Tournament)