40th Annual Rochester Interscholastic League Wrestling Championships
February 27, 1970 - February 28, 1970 @ East High School (Rochester, New York)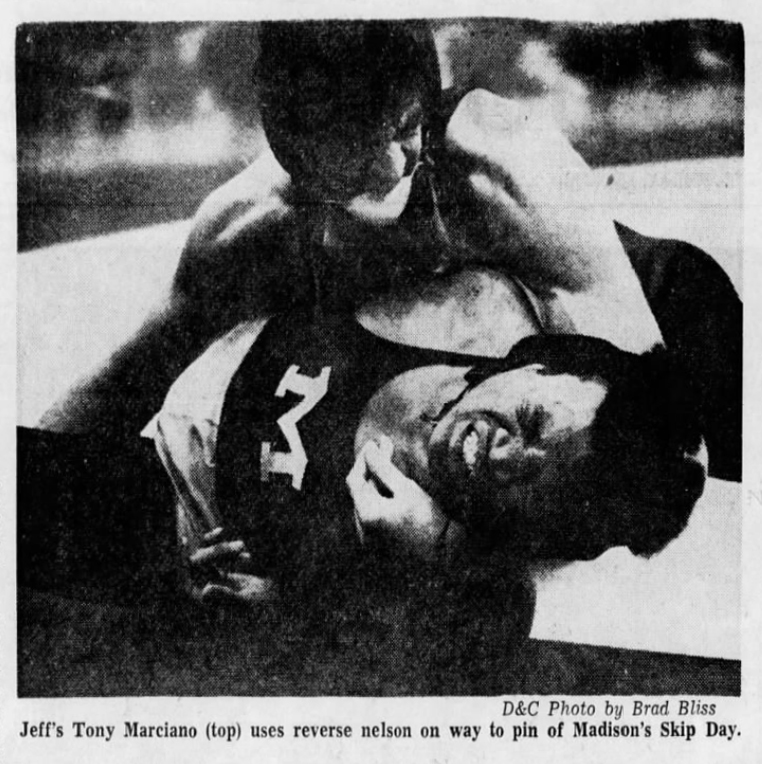 Tony Marciano vs. Skip Day
Jeff's Tony Marciano (top) uses reverse nelson on way to pin Madison's Skip Day. SOURCE: Rochester Democrat and Chronicle, Friday, February 27, 1970. Reproduced by armdrag.com with permission. Click for larger image.

Varsity

Team Final

Madison (Rochester) 100, Jefferson (Rochester) 77, West High (Rochester) 74, East High (Rochester) 46, Edison Tech (Rochester) 46, Marshall (Rochester) 21, Franklin (Rochester) 20, Monroe (Rochester) 20, Charlotte (Rochester) 11

Outstanding Wrestler Award - Tom Amore (EHR)

Championship Final (1st)


Championship Semifinals



IF YOU HAVE ANY ADDITIONAL PHOTOS OR DOCUMENTATION FROM THIS EVENT, CONTACT INFO@ARMDRAG.COM.

Comments (40th Annual Rochester Interscholastic League Wrestling Championships)