51st Annual Rochester City-Catholic League Wrestling Championships
February 16, 1980 @ Edison Technical High School (Rochester, New York)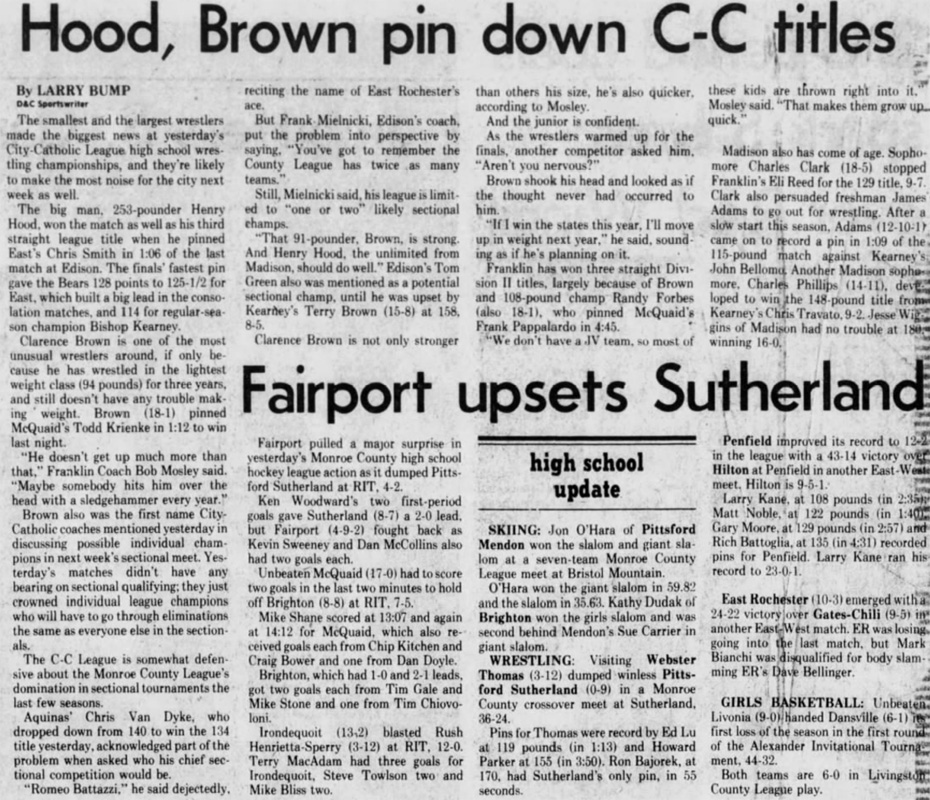 Hood, Brown pin down C-C titles
The smallest and the largest wrestlers made the biggest news at yesterday's City-Catholic League high school wrestling championships, and they're likely to make the most noise for the city next week as well. SOURCE: Rochester Democrat and Chronicle, Sunday, February 17, 1980. Reproduced by armdrag.com with permission. Click for larger image.

Varsity

Team Final

Madison (Rochester) 128, East High (Rochester) 125.5, Bishop Kearney 114, Franklin (Rochester) 97.5, Edison Tech (Rochester) 91, Aquinas 80, McQuaid Jesuit 49, Jefferson (Rochester) 14.5, Cardinal Mooney 10

Championship Final (1st)


Consolation Final (3rd)



IF YOU HAVE ANY ADDITIONAL PHOTOS OR DOCUMENTATION FROM THIS EVENT, CONTACT INFO@ARMDRAG.COM.

Comments (51st Annual Rochester City-Catholic League Wrestling Championships)