NYSPHSAA Section V 53rd Annual Wrestling Championships and 32nd Annual State Qualifier
February 26, 1999 - February 27, 1999 @ Fairport High School (Fairport, New York)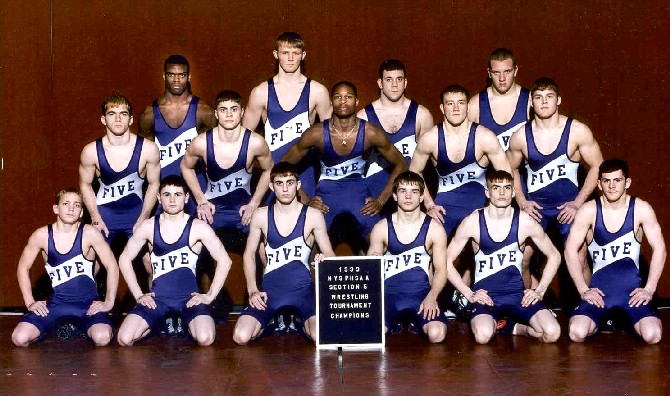 1999 NYSPHSAA Section V Wrestling Champions
FRONT ROW: Trevor Chinn (Canandaigua), Shawn Hibbs (Spencerport), Gary Borelli (Spencerport), Mike Smith (Hornell), Dave Hadden (Geneva), Zachariah Jones (Addison), Just Giffi (Webster), Mike Pagano (Greece Athena), Shamir Rhodes (Rush-Henrietta), Lucas Flint (Pavilion), Erich Steffens (Wayland-Cohocton), Michael Brown (Franklin), Jared Roy (Addison), Shaun Murray (Greece Athena), Dave Leitten (Warsaw). If you have a higher-resolution scan of this image, please send it to info@armdrag.com.



Varsity | Super Sectionals

Teams

Addison, Alexander, Alfred-Almond, Bolivar-Richburg, Brighton, Byron-Bergen, Campbell-Savona, Canandaigua, Dundee, East High (Rochester), East Irondequoit Eastridge, East Rochester, Franklin (Rochester), Gates Chili, Geneva, Greece Athena, Greece Olympia, Hilton, Holley, Hornell, Irondequoit, Le Roy, Lyndonville, Midlakes, Mynderse, Pavilion, Penfield, Perry, Pittsford, Rush-Henrietta, Spencerport, Victor, Warsaw, Waterloo, Wayland-Cohocton, Wayne, Webster

Outstanding Wrestler Award - Gary Borrelli (Spencerport)

Championship Final (1st)


Consolation Final (3rd)



IF YOU HAVE ANY ADDITIONAL PHOTOS OR DOCUMENTATION FROM THIS EVENT, CONTACT INFO@ARMDRAG.COM.

Comments (NYSPHSAA Section V 53rd Annual Wrestling Championships and 32nd Annual State Qualifier)