4th Annual Medina Holiday Wrestling Tournament
December 29, 1966 @ Oak Orchard Elementary School (Medina, New York)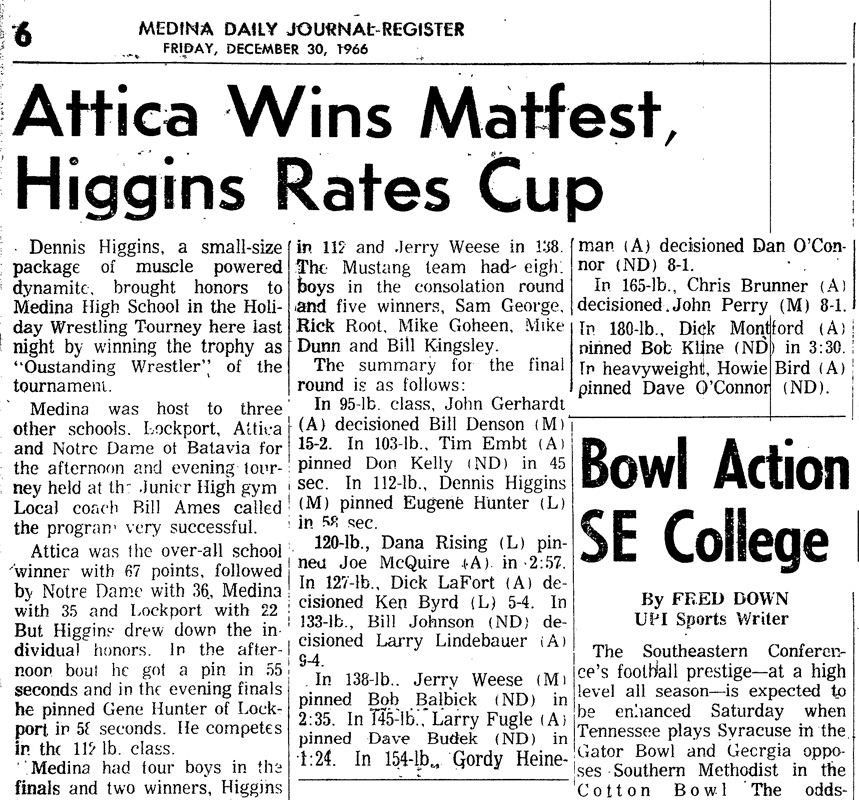 Attica Wins Matfest, Higgins Rates Cup
Dennis Higgins, a small-size package of muscle-powered dynamite, brought honors to Medina High School in the Holiday Wrestling Tourney here last night by winning the trophy as Outstanding Wrestler of the tournament. SOURCE: Medina Daily Register-Journal, December 30, 1966. Click for larger image.

Varsity

Team Final

Attica 67, Batavia Notre Dame 36, Medina 35, Lockport 22

Outstanding Wrestler Award - Dennis Higgins (Medina)

Championship Final (1st)



IF YOU HAVE ANY ADDITIONAL PHOTOS OR DOCUMENTATION FROM THIS EVENT, CONTACT INFO@ARMDRAG.COM.

Comments (4th Annual Medina Holiday Wrestling Tournament)