2nd Annual David L. Buckley Memorial Wrestling Tournament
January 3, 1976 @ Avon High School (Avon, New York)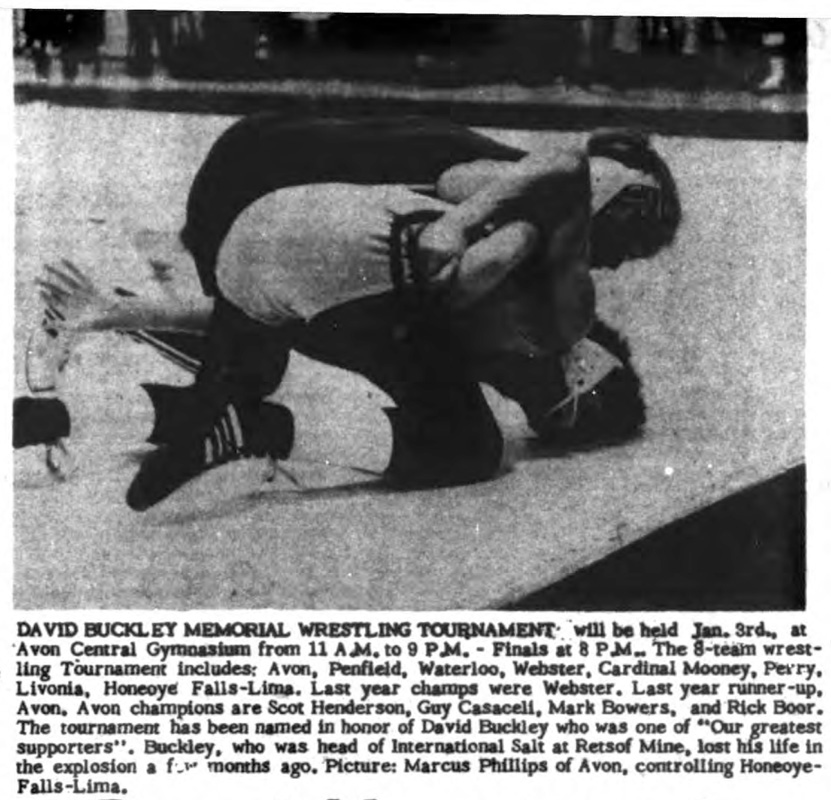 David Buckley Memorial Wrestling Tournament
The tournament has been named in honor of David Buckley who was one of 'Our greatest supporters.' Buckley, who was head of International Salt and Retsof Mine, lost his life in the explosion a few months ago. Picture: Marcus Phillips of Avon, controlling Honeoye Falls-Lima. SOURCE: Livingston County Leader, December 1975. Click for larger image.
Varsity

Team Final

Cardinal Mooney 79.5, Webster Thomas 76, Penfield 64.5, Livonia 54.5, Waterloo 50.5, Avon 43, Honeoye Falls-Lima 42, Perry 16

Outstanding Wrestler Award - Jack Feulner (Livonia)

Championship Final (1st)



IF YOU HAVE ANY ADDITIONAL PHOTOS OR DOCUMENTATION FROM THIS EVENT, CONTACT INFO@ARMDRAG.COM.

Comments (2nd Annual David L. Buckley Memorial Wrestling Tournament)