1st Annual NYSPHSAA Intersectional Wrestling Championships
March 9, 1963 @ Barton Hall, Cornell University (Ithaca, New York)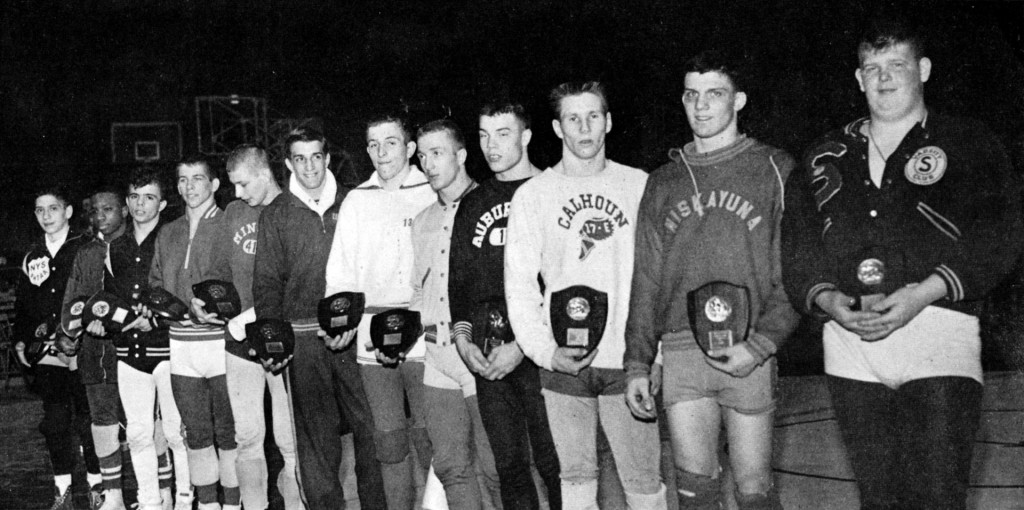 1963 NYSPHSAA Intersectional Wrestling Champions
Winners of the 1st Annual NYSPHSAA Intersectional Wrestling Championships. Click for larger image.








Varsity

Teams

Amityville, Au Sable Forks, Auburn, Bainbridge-Guilford, Baldwinsville, Bay Shore, Berner, Burnt Hills-Ballston Lake, Calhoun, Carmel, Central Square, Clarkstown, Cortland, Draper, East Islip, Ellenburg, Frankfort-Schuyler, Freeport, Haverstraw, Hempstead, Hendrick Hudson, Homer, Horseheads, Huntington, Ithaca, Mepham, Mexico, Middletown, Mineola, Mohawk, Mont Pleasant, Mount Vernon, New Rochelle, Newfield, Niskayuna, Norwich, Nyack, Owego, Peru, Plattsburgh, Port Jefferson, Riverhead, Rome, Roy C. Ketcham, Saranac, Scarsdale, Shaker, Sherburne, Sidney, Smithtown, South Glens Falls, Suffern, Union-Endicott, Uniondale, Valley Stream, Vestal, Wantagh, West Babylon

Region Final

Section VIII 121, Section III 75, Section XI 74, Section IV 55, Section I 32, Section II 30, Section IX 21, Section VII 0

Fastest Pin Award - Brian Lucas (Scarsdale/Section I)

Championship Final (1st)


Consolation Final (3rd)


Championship Semifinals


Championship Quarterfinals



IF YOU HAVE ANY ADDITIONAL PHOTOS OR DOCUMENTATION FROM THIS EVENT, CONTACT INFO@ARMDRAG.COM.

Comments (1st Annual NYSPHSAA Intersectional Wrestling Championships)