3rd Annual NYSPHSAA Intersectional Wrestling Championships
March 6, 1965 @ Ithaca College Physical Education Building (Ithaca, New York)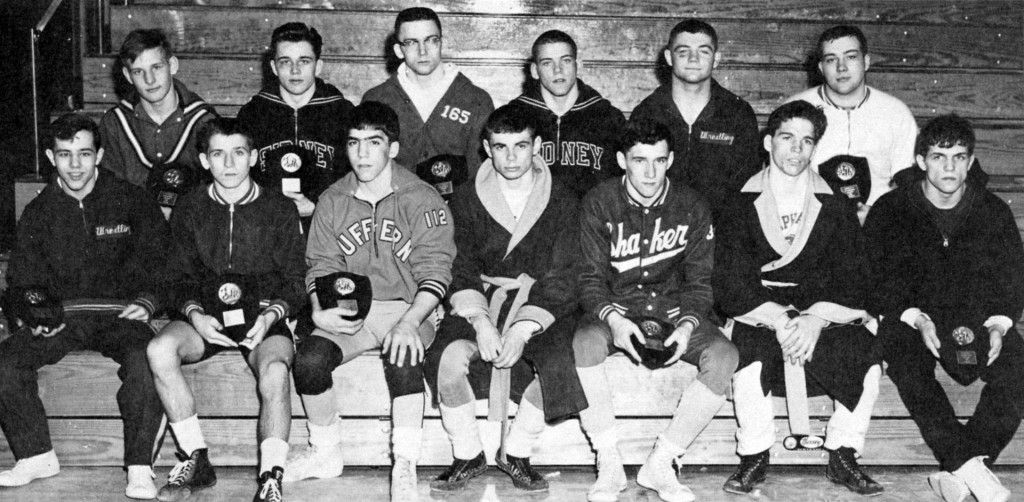 1965 NYSPHSAA Intersectional Wrestling Champions
Winners of the 3rd Annual NYSPHSAA Intersectional Wrestling Championships. Click for larger image.

Varsity

Teams

Amityville, Auburn, Berner, Burnt Hills-Ballston Lake, Calhoun, Camden, Canastota, Carmel, Cattaraugus, Cazenovia, Deer Park, Draper, Dryden, East Islip, East Syracuse-Minoa, Fox Lane, Frankfort-Schuyler, Freeport, Garden City, Grand Island, Groton, Haverstraw, Herricks, Homer, Horseheads, Huntington, Iroquois, Ithaca, John Glenn, Lake Shore, Lakeland, Liberty, Lindenhurst, Longwood, Maryvale, Massapequa, Mepham, Monroe-Woodbury, Mont Pleasant, Mount Vernon, Newburgh, Niagara Wheatfield, Niskayuna, Oceanside, Oneonta, Orchard Park, Ossining, Pearl River, Philip Schuyler, Port Jervis, Rome, Roy C. Ketcham, Scarsdale, Seaford, Shaker, Sherburne, Sidney, South Glens Falls, Southwestern, Spring Valley, Suffern, Tonawanda, Union-Endicott, Uniondale, Valley Stream North, Walt Whitman, Wantagh, West Babylon, White Plains, Whitehall

Region Final

Section IV 125, Section VIII 79, Section XI 63, Section VI 44, Section II 37, Section III 32, Section IX 15, Section I 0

Championship Final (1st)


Consolation Final (3rd)


Championship Semifinals


Championship Quarterfinals



IF YOU HAVE ANY ADDITIONAL PHOTOS OR DOCUMENTATION FROM THIS EVENT, CONTACT INFO@ARMDRAG.COM.

Comments (3rd Annual NYSPHSAA Intersectional Wrestling Championships)