East High (Rochester) vs. West High (Rochester)
March 13, 1923 @ East High School (Rochester, New York)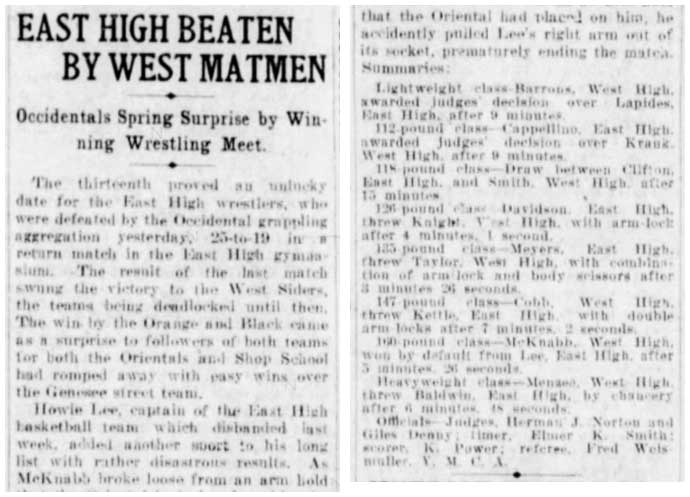 East High Beaten by West Matmen
OCCIDENTALS SPRING SURPRISE BY WINNING WRESTLING MEET. The thirteenth proved an unlucky date for the East High wrestlers, who were defeated by the Occidental grappling aggregation yesterday, 25-to-19 in a return match in the East High gymnasium. The result of the last match swung the victory to the West Siders, the teams being deadlocked until then. The win by the Orange and Black came as a surprise to followers of both teams for both the Orientals and Shop School had romped away with easy wins over the Genesee Street team. SOURCE: Rochester Democrat and Chronicle, Wednesday, March 23, 1923. Reproduced by armdrag.com with permission.
Varsity | Rochester Interscholastic League
West High (Rochester) [NY] 25, East High (Rochester) [NY] 19
IF YOU HAVE ANY ADDITIONAL PHOTOS OR DOCUMENTATION FROM THIS EVENT, CONTACT INFO@ARMDRAG.COM.

Comments (East High (Rochester) vs. West High (Rochester))