Marshall (Rochester) vs. Monroe (Rochester)
January 30, 1964 @ John Marshall High School (Rochester, New York)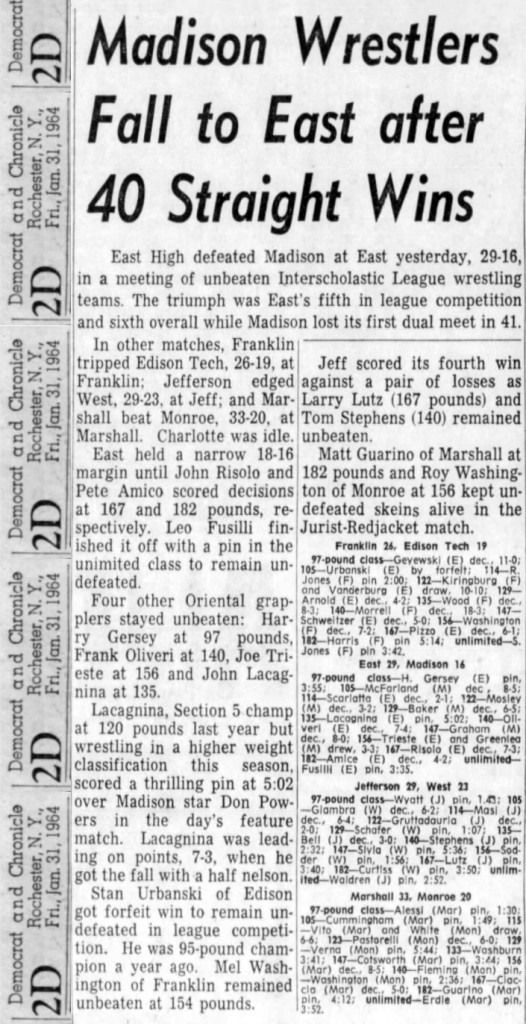 Marshalls beats Monroe
Matt Guarino of Marshall at 182 pounds and Roy Washington of Monroe at 156 kept undefeated skeins alive in the Jurist-Redjacket latch. SOURCE: Rochester Democrat and Chronicle, January 31, 1964. Reproduced by armdrag.com with permission. Click for larger image.
Varsity | Rochester Interscholastic League
Marshall (Rochester) [NY] 33, Monroe (Rochester) [NY] 20
IF YOU HAVE ANY ADDITIONAL PHOTOS OR DOCUMENTATION FROM THIS EVENT, CONTACT INFO@ARMDRAG.COM.

Comments (Marshall (Rochester) vs. Monroe (Rochester))